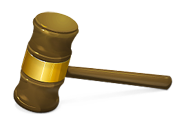 Like any big company, Apple often finds itself embroiled in matters legal, whether it be bringing a case against some other entity or as the target of such a suit itself. Such developments are almost routine, given the litigious nature of the world we live in. Here's a round-up of a couple lawsuit-related stories in which Cupertino plays a part this week.
In December 2007, plaintiff Stacie Somers launched a class action suit against Apple, alleging the company of illegally "tying" its iPod product line to the iTunes Store, meaning that iPod owners could only buy music from Apple and that such music would only play on iPods. (Apparently, Ms. Somers was unaware of CD-ripping.) This week, U.S. District Judge James Ware ruled that Ms. Somers's expert did not provide a solid methodology for calculating damages and denied the certification of a damages class. The case, however, continues as Judge Ware considers the merits of a separate injunctive class.

Meanwhile, in Louisiana, a new class action suit targets both Apple and its wireless partner AT&T. The claim? That the companies misled customers by advertising the Multimedia Messaging Service (MMS or picture messaging) feature, which is still not available on the iPhone in the U.S. Apparently, the suit further claims that AT&T does not support MMS and supposedly cites information from Apple saying that AT&T's towers can't handle the technology. Which would probably come as news to non-iPhone AT&T subscribers who regularly use MMS and those who have managed to hack their iPhones to use the service. Facts, schmacts.
Just goes to show you that when one class action door closes, the universe opens a litigious window. That's what's going on this week in the world of Apple's legal forays. Of course, there's rarely a shortage of these types of stories, so expect to see us back at some point in the not-too-distant future with more news on Apple in the courts.