At a Glance
Expert's Rating
Our Verdict
A comment question from Mac users is, "Can I toggle Bluetooth on and off using the keyboard?" The Bluetooth menu extra lets you quickly toggle Bluetooth status, but some people would rather use that menu-bar space for other items—and some just prefer keyboard shortcuts. The answer to the question is, "With a little help."
Axonic Labs' Bluetoggle is a utility that lets you assign a keyboard shortcut for turning Bluetooth on and off. Via a new Bluetoggle pane of System Preferences, you choose a key from F1 to F12, along with one or more modifiers (Shift, Control, Option, and Command). Toggling Bluetooth is then as simple as pressing your shortcut; an on-screen display appears to confirm the action.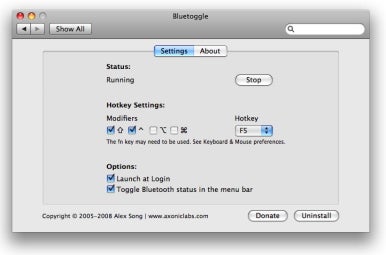 Unfortunately, if you have a keyboard with more than 12 F-keys, you can't use F13 or higher as your shortcut. On the other hand, a clever option lets you toggle the Bluetooth menu extra, as well: When Bluetooth is enabled, and you're likely to want quick access to the commands in the Bluetooth menu, the menu extra is visible; when Bluetooth is disabled, the menu extra is hidden.
Simple? Yep. But I'm finding it useful as a way to quickly enable Bluetooth when I open my laptop at my desk—where my Bluetooth devices are—and disable it before I go out. Now if only I could get a similarly convenient feature for my iPhone…
Want to stay up to date with the latest Gems? Sign up for the Mac Gems newsletter for a weekly e-mail summary of Gems reviews sent directly to your Inbox.