There's always room for a good trading/"tycoon"-style game on any platform. And the mobile version of NinjaBee's $3 Kaloki Adventure is a good trading/"tycoon"-style game.
In this space-themed game, you take control of 14 individual space stations. In true "tycoon" style, you're supposed to outfit each station with the aim of making them profitable and meeting other goals within a set period of time.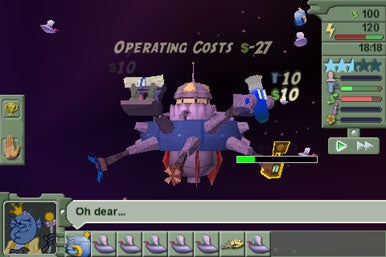 Though that might sound a little dry, the developer pulls this off by creating an environment with bright, colorful characters and locations. After beginning with small steps such as installing a power generator and perhaps building a lemonade stand to draw intergalactic customers (because even space travelers love lemonade), you'll be approached by aliens demanding locations to socialize, eat, mingle, perform experiments, and conduct trades. Meet these demands and the money will roll in, as their ships dock at your station for both business and pleasure. Fall short and you'll be wondering what you can quickly sell off to become solvent again.
Though not groundbreaking, Kaloki Adventure sports good graphics and a cool, jazzy soundtrack that surprisingly doesn't become repetitive. All these elements combine to give Kaloki Adventure its own fun style. The game makes good use of the iPhone's touchscreen, allowing you to easily rotate the view of your space station to examine add-ons you've built or check on their condition.
A save feature allows for up to three game slots to be saved. Other cool bells and whistles include a helpful tutorial that acclimates you to the game, simple-but-useful levels of customization, multiple game speeds (good for speeding ahead while saving up for a purchase or slowing down to plan the next move), and convenient level loading features that allow users to restart a scenario if things are going poorly. Parts of Kaloki Adventure could use some touching up—small icons take a practiced hand to tap correctly and scenario goals aren't as well defined as they could be—there's nothing here that detracts from your enjoyment of the game.
Like a true "tycoon" game, business can be going poorly one moment, then be gangbusters the next and Kaloki Adventure captures this roller coaster feeling almost perfectly. Be prepared for the heart attack that comes when almost everything breaks down in unison and repair bots have to be sent out prior to your once-profitable operations. Remember… it's just business.
Kaloki Adventure is compatible with any iPhone or iPod touch running the iPhone 2.2.1 software update.
[Chris Barylick is a frequent contributor to Macworld. He isn't completely sure if his plans for the first-ever space station disco are completely viable, but won't rest until it's built.]