Editor's Note: The following article is reprinted from Macworld UK. Visit Macworld U.K.'s blog page for the latest Mac news from across the Atlantic.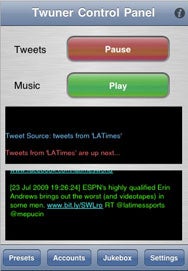 Krystronix has launched Twuner, a Twitter application for iPhone and iPod touch with a difference.
The developer believes Twuner is the first Twitter application, at least on a mobile platform, that brings the latest in text-to-speech technology to the world of micro-blogging.
Twuner reads out Twitter posts—it will even play them while listening to music, with tweets announced then music playback automatically resumed.
Twuner automatically refreshes itself periodically, as often as every 30 seconds, so you can be fully up-to-date with all the news arriving via Twitter with minimal impact to your productivity, the developer says.
Krystronix doesn't see Twuner as a replacement for a fully fledged Twitter application, more a useful addition. "We refer to it in the iPhone App Store as a Twitter utility because it was not designed to replace a regular full-featured Twitter app. However, we do not want you to think of it as just a cool toy," Krystronix said.
Available from the App Store Twuner costs $3 and requires the iPhone 3.0 Software Update.