Sonoma Wire Works' FourTrack is an amazing iPhone app for musicians, songwriters, or anyone who likes to record audio. At just $10, it's also a great value compared to buying a dedicated four-track recorder like those from Tascam and Roland that can cost $200 or more (though, admittedly, they offer more connection options and better features).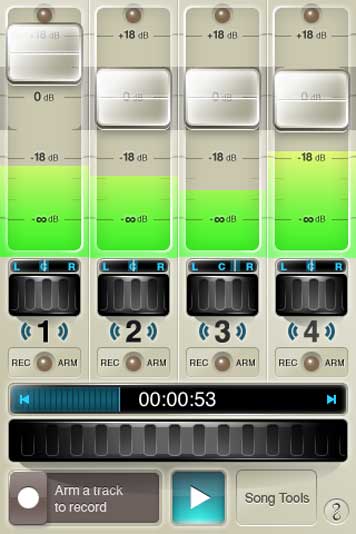 The basic concept behind four-track recording is that you can lay one track, such as a drum part or bass loop, then overlay a vocal, guitar, and other instruments to make a complete song. For capturing a quick song idea, or even creating a full song on-the-go, FourTrack is a must-have.
The primary strength of this app is that it's so easy to use. You start FourTrack, "arm" a track–which just means activating it for recording–and then move a slider to start recording. The recording slider means you won't accidentally press a Record button. After recording, you arm the next track and add another guitar riff, bass line, or whatever you want, and you're done.
The main screen is uncluttered on purpose–it is meant for simple music recording. Pan knobs adjust the track to the left or right audio channel. (If you copy the final song over to your Mac and burn a CD, and play it on your stereo, you can really hear the difference the pan settings make.) You can fast forward or rewind through a song, or just click on any part of the song to skip ahead. Recording quality is excellent–I noticed only a small amount of hiss.
When your song is ready, you can press the Song Tools button to name it. (All tracks are saved automatically.) There is also an option for a metronome, which plays an audio tick to help you stay on the beat. FourTrack even includes a metronome drum loop (basically, a drum pattern at a set speed), which makes it even easier. You can customize how fast the metronome plays. The metronome is important: if you play on a specific beat, you can then add more tracks if you move the song over to your Mac or share it with friends because they can add tracks at the exact same beat.
In Song Tools, you can bounce tracks. Bouncing means combining two tracks into one or moving all four tracks into a new song, and then recording more tracks. There is no limit to how many bounces you can do, other than available memory.
When you want to share your musical creations with the world, things get a little more complicated. There is a Wi-Fi sync option for transferring songs from the iPhone to your Mac. Just open Safari on your Mac, type an IP address, then download each track one by one. Or you can use Sonoma Wire Works' RiffWorks to import tracks directly from the iPhone. I'd actually prefer a simple Upload to Mac option, but it's not a major issue.
FourTrack is an exceptional app, one I highly recommend for musicians and non-musicians alike. One alternative to FourTrack is using a device such as the Tascam DR-07 portable digital recorder, which costs about $200. Yudo's Rectools08Pro Multi Track Recorder is similar to FourTrack and costs $20 but is not as easy to use, although it does record eight tracks without bouncing.
FourTrack is compatible with any iPhone or second-generation iPod touch running the iPhone 2.2.1 software update.
[John Brandon is a 20-year veteran Mac user who used to run an all-Mac graphics department.]