Editor's Note: The following article is reprinted from the Today @ PC World blog at PCWorld.com.
In addition to two new pocket cameras that feature secondary front-panel LCD screens, Samsung today announced another innovative pocket camera that offers Wi-Fi, GPS, Bluetooth, and DLNA connectivity.
The Samsung CL65 ($400, available in September) will allow users to geo-tag photos via built-in GPS connectivity that adds specific city- and country-based location data, rather than just longitude and latitude information. Users can also transmit photos wirelessly via Wi-Fi using an e-mail address, or via Bluetooth 2.0 to compatible devices. Rounding out the CL65's wireless bag of tricks is its DLNA connectivity, which allows the camera to share photos and video with DLNA-compliant HDTVs, photo frames, and other devices.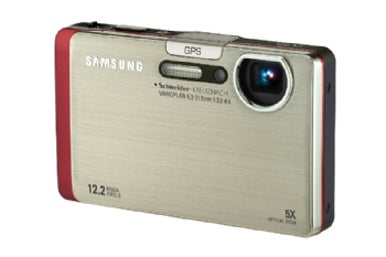 Like the just-announced TL225, the CL65 will sport a 3.5-inch-diagonal, high-resolution touchscreen LCD on the back, which you use to control most of the camera's functions. It also offers the same gesture- and accelerometer-based interface as the two new TL-series cameras; users can control image playback or change settings by swiping their fingertip or by tilting the camera.
The CL65 has a 5X optical Schneider-Kreuznach lens (35mm to 175mm), a 12-megapixel CCD sensor, dual optical/digital image stabilization, and 720p HD video recording (H.264 at 30 frames per second). In case all of that wireless connectivity doesn't do the trick for you, an HDMI-out adapter is sold separately.