Editor's Note: The following article is reprinted from the Today @ PC World blog at PCWorld.com.
Two new Samsung point-and-shoot cameras will have a secondary LCD built into the front of the body, an innovative feature intended to simplify self-portraits, help parents snap pics of smiling babies, and make self-timer shots more effective.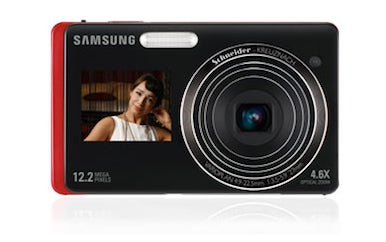 The TL225 and TL220, both announced today, are the first cameras in Samsung's new DualView line. Each camera has a 1.5-inch LCD screen on the front that–based on the mode you've selected–offers a viewfinder for self portraits, an animated-cartoon scene to grab an infant's attention, or a countdown clock for the self-timer.
Activating the front-panel LCD involves simply tapping the front of the camera. During some brief hands-on time with the cameras, I found the front-panel screen sharp and bright, and practically blended into the camera's finish; the screen itself isn't even visible unless you activate it by tapping the camera's front.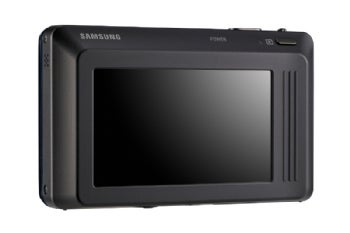 The TL225 also features a roomy, 3.5-inch-diagonal, ultrahigh-resolution touchscreen LCD on the back (the TL220 has a slightly smaller 3-inch touchscreen LCD), and you operate most of the cameras' controls via the touchscreens.
Those controls include gesture-based and accelerometer-based controls for browsing, deleting, and rotating images on the screen. For example, drawing an X shape on a photo during playback mode will delete it. And thanks to the accelerometers, you can access different camera functions simply by tilting the camera up, down, left, or right.
These aren't just gimmick cameras, either, as they offer a nice list of specs, including 27mm wide-angle Schneider-Kreuznach lenses, dual optical/digital image stabilization, 12-megapixel CCD sensors, and 720p HD video recording in H.264 format at 30 frames per second.
Both the Samsung TL225 ($350) and the Samsung TL220 ($300) will be available in September. The big contributors to that $50 price difference: The TL225 has a larger LCD, an aluminum back instead of the TL220's plastic back, and HDMI output via an additional accessory.