iPods used to ship with a built-in Music Quiz game, which challenged you to identify snippets of songs in your music library before time expired. That game is nowhere to be found on the iPhone or iPod touch—at least, not by default. Head over to the App Store, however, and you can download Music Library Quiz, a $1 app from Andrea Vettori that quizzes you about your mobile music collection.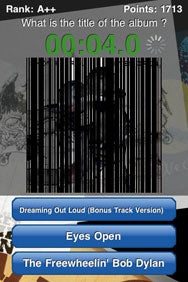 With Music Library Quiz, you can choose to test yourself over song titles, artists, album covers, or album titles. With the exception of song title, each of these options can be toggled on or off at the beginning of the game. The app will then use your iTunes library to generate an infinite number of timed questions.
Once the game starts, your goal is to recognize each item in the quickest amount of time. The faster you answer correctly, the higher the score you achieve.
Music Library Quiz stands out with simplicity, offering a very easy-to-use game. Buttons are large and self-explanatory, and a new game can be started in a matter of seconds. In fact, the only other option on the home screen is to view the Top Scores leaderboard.
While simplicity is a great aspect to the game, some might argue that Music Library Quiz lacks some key features and options—the ability to play at different skill levels, for example. However, a recent update added a number of features including different game modes, the option to start songs at a random point, the ability play from a specific playlist, and improved graphics.
If you're wary of laying down the cash for the full app, there is a lite version of Music Library Quiz available for free. Differing from the paid app, Music Library Quiz Lite restricts you to playing with just 100 songs and only allows you to play one game with each application launch.
Music Library Quiz is a great game that tackles its niche with distinction. Plus, its recent update shows that the developer is serious about improving on the game experience. If you're looking for a touch-screen replacement to the classic iPod's Music Quiz, then Music Library Quiz is for you.
Music Library Quiz is compatible with any iPhone or iPod touch running the iPhone 3.0 software update.
[ John Fuller is a freelance designer and writer from Texas.]