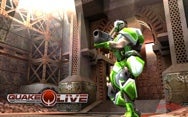 It looks like id Software is at last ready to deliver on its promise of providing quality browser-based fragging to Mac users. Speaking at this past week's QuakeCon 2009, id CEO Todd Hollenshead said Quake Live is expanding to Mac and Linux platforms on August 18.
The game, which is a Web-based re-creation of the 1999 classic Quake III Arena, went into public beta for Windows in February, with promises of coming to the Mac and Linux in due time. Executive producer Marty Stratton said in May that internal testing on those versions had begun, and that support for the Mac was a top priority.
Firefox will be the de facto browser choice for Mac users looking to unload some plasma cannon blasts next week: the only other supported browser is Internet Explorer 7 or 8. Hardware specs aren't yet available, but the PC specs recommend a 2GHz or better Intel processor and an Nvidia NVIDIA GeForce 7 Series, ATI Radeon X1800 series, or better, so you can read between the lines.
Quake Live is free for all players, though you need to register an account to play. But when that's all that stands between you and some rocket launcher action, it's hardly even worth noting.