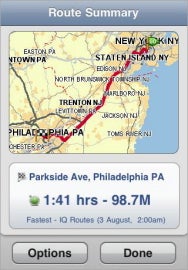 TomTom's long-awaited turn-by-turn navigation app for the iPhone, TomTom U.S. & Canada (iTunes link), is now available on the US iTunes App Store.
The $100 app, first announced during June's WWDC keynote, uses the iPhone's built-in GPS circuitry to provide real-time, turn-by-turn navigation. The app is based on the same software used by TomTom's standalone GPS units and includes features such as IQ Routes and points of interest. Unlike AT&T's Navigator app, which requires a monthly service fee, TomTom's app is a one-time purchase, although you'll presumably be able to purchase updated maps in the future. (Macworld covered TomTom for iPhone in depth last month.)
The app takes advantage of the iPhone's hardware to provide features not found in the company's dedicated navigation devices; for example, landscape and portrait modes, multi-touch gestures, and direct access to addresses in the Contacts app.
TomTom U.S. & Canada covers all 50 states, all Canadian provinces, and Puerto Rico, and includes text and voices in 14 languages. According to TomTom, you can also add other locations around the world, although further information wasn't available at the time of publication. Standalone versions for Western Europe ($140), Australia ($80), and New Zealand ($95) are also available on the US App Store.
TomTom has not yet announced a release date or price for the company's Car Kit for iPhone, a hardware accessory that enhances the iPhone app by providing an additional GPS receiver, a built-in speaker, a microphone, a car mount, a car charger, and an audio-output jack.