Monster Pinball will cost you $4—and hours of your life. Developer Matmi has created a gorgeous iPhone pinball experience, and I recommend it highly.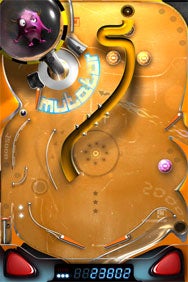 Pinball video games need a few key elements to come together to ensure that they're fun and not frustrating. Monster Pinball nails them all: The physics are spot-on, the graphics are eye-poppingly stunning, the flippers and plunger are responsive, and the board layouts are eminently playable.
In fact, the gameplay area is made of six interconnected pinball tables, and different pathways send your ball caroming between them. I'd love an option to play each table individually, but the game doesn't suffer without it. The sounds in Monster Pinball are as over-the-top as the pinball games in every arcade you've ever been in; a tiny mute button on the main menu screen comes in handy pretty quickly.
Touch controls are implemented well; you tap the sides of the screen to trigger the multiple flippers, and flick downward to pull the plunger. You're also afforded up to five "tilts" per game, where shaking the iPhone can help push the ball where you'd like it to go.
On occasion, the little ball can be hard to track for a moment, but that has no impact on my enjoyment of the game.
Monster Pinball is pure fun. Go get it.
Monster Pinball is compatible with any iPhone or iPod touch running the iPhone 2.2.1 software update.
[ Lex Friedman publishes jokes on the web five days a week.]