Miniature iPhones, handsets that double as shavers and others shaped like packs of cigarettes are just some of the gray-market devices on sale at Chinese markets.
China is home to a booming, unregulated industry in knock-off mobile phones that is hurting legal handset makers even as it spawns innovation. The low-price handsets have become popular enough to inspire a nickname, shanzhai, which translates as "bandit" and includes any phone not licensed for sale by regulatory authorities. Included in the category are look-alike versions of well-known smartphones like the iPhone and the Nokia N97, sometimes so close in appearance to the original handsets that the two can be hard to distinguish.
But despite their resemblance, the knock-off phones sometimes lack functions found in the original handsets and can come with malware pre-installed or have safety hazards like exploding batteries.
Fake iPhones were openly sold beside real iPhones smuggled into China during a recent visit to one of Beijing's multistory electronics bazaars. The iPhone is not officially sold in China, but merchants buy the handsets unlocked outside China and resell them inside the country. Local carrier China Unicom is in talks with Apple to officially launch the iPhone in the country.
The shanzhai iPhones came with either a standard 3.5-inch screen or a smaller 2.9-inch screen. Applications were displayed in iPhone-style bubble squares, but the phones could be distinguished from real versions partly by the China-specific applications preloaded on them, such as a popular chat client. "iPhone" was misspelled on the back of some of the handsets as well, engraved either as "AIphone" or "iPhne." Other spelling changes found on knock-off handsets in China include "Nckia" and "Samsang."
Vendors asked prices from 600 yuan (US$88) to 1,200 yuan for the imitation iPhones, and most made a point of calling them "China-made" rather than "pirated" or "fake." Real iPhones at the same stands sold for around 4,000 yuan.
Shanzhai phones have performed well with China's price-conscious consumers. Of the 750 million mobile phones manufactured in China last year, about one in five—or 150 million—were shanzhai phones, according to Chinese research outfit CCID Consulting. Some of those made it to other countries, but most were sent to markets across China.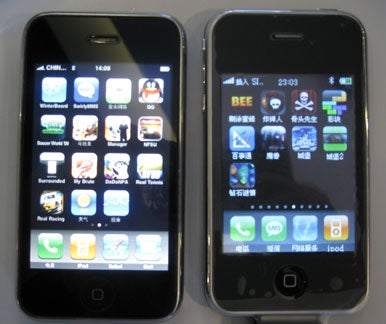 Shanzhai phones probably took a greater share of China's handset market this year, cutting into sale opportunities for both foreign and Chinese handset makers, said Karl J. Weaver, China handset business development manager for Newport Technologies.
"The shanzhai not only have affected the traditional tier-one handset manufacturers, they've also affected the Chinese companies," said Weaver. "I anticipate they lost a lot of money."
The shanzhai industry has defied regulation despite intellectual-property concerns raised by copycat devices. Reasons for low regulation so far could include the large number of people the industry employs and government support for its entrepreneurial side, said Weaver.
Some shanzhai phone vendors have gone on to design and market handsets licensed through the official regulatory process, he said. Knock-off manufacturers have also innovated at times. Novel features that have appeared in shanzhai handsets include dual-SIM card slots, extra-loud speakers and built-in cigarette lighters, sometimes added to phone designs otherwise copied from a major brand.
"There's creativity in the knock-off," said Weaver. "Some of the shanzhai products actually have better functions and features than the original product itself."
Top shanzhai phone makers that become legal could potentially become global vendors, he said.
The shanzhai industry is based in Shenzhen, a freewheeling southern city where factories churn out gadgets for companies including Apple. The presence of established handset makers makes it easy for merchants to find knock-off suppliers in the city, said a stall owner at the Beijing bazaar surnamed Zhang.
"You can go online or go to Shenzhen yourself," Zhang said at his Apple device booth. "The people there can design a handset that looks just like an iPhone very quickly."
"But they all keep close cover," he said.