i.TV already helps you find out what to watch. Now the makers of the mobile programming guide for the iPhone and iPod touch want to give you control over what you're watching as well.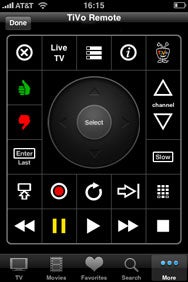 On Monday, i.TV's developers unveiled a new i.TV Remote Control Framework. The framework, announced in conjunction with the forthcoming i.TV 2.0 update, will let users of the app control external devices like TVs, DVRs, and AV receivers with their iPhone or iPod touch.
Read more…
The i.TV Remote Control Framework is aimed at third-party developers, giving them a way to build controls for external devices into i.TV's app. According to i.TV, controls built on the new framework will use scripts for defining user interface elements and key press behavior to control home-entertainment devices. Communication between the iPhone and the external hardware is handled via the Bonjour protocol or Apple's External Accessory Framework for Bluetooth accessories.
The first developer out of the gate with support for i.TV's Remote Control Framework: TiVo. The maker of digital video recorders has supplied i.TV with an integrated remote for broadband-connected TiVo DVRs that will appear in the next version of the i.TV app. i.TV expects to announce more remote control integrations this year.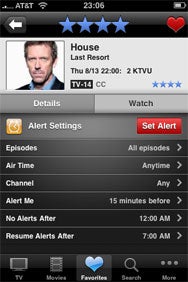 That upcoming i.TV release—version 2.0—is currently under review by Apple. Once it receives Apple's seal of approval and arrives at the App Store, it will introduce a number of other features including push notifications and iTunes integration.
The push notifications feature taps into the iPhone OS 3.0 update to let i.TV users set alerts for upcoming shows; they can also ask the app to notify them whenever a new episode will air.
Show detail screens will feature iTunes Store integration in i.TV 2.0. If a program has content available in iTunes, i.TV will feature a badge that shows how many titles you can download. Tap on the title, and the mobile iTunes Store app will launch—you'll be able to complete your purchase from there.
In addition, i.TV 2.0 also promises a streamlined user interface based on feedback the developer has gotten from i.TV users. The free app will continue to show TV listings, movie showtimes, and Netflix queues, with users able to rate and review programs.
i.TV has posted a YouTube video previewing the Version 2.0 changes at its Web site: