Add Default Folder X to the list of apps that offer support for Apple's upcoming Mac OS X 10.6 update. St. Clair Software on Monday rolled out Default Folder X 4.3, which adds full support for Snow Leopard to the file dialog enhancement utility.
Default Folder X lets you assign default folders for each application. The utility also makes recently used and favorite files and folders easily accessible, and it lets the Open and Save dialog boxes remember the last folder and file you worked with in each application.
In addition to support for Snow Leopard's 64-bit architecture, Default Folder X 4.3 also fixes a problem that could cause the utility's hierarchical menus to crash under OS X 10.6.
The 4.3 update also works with OS X 10.4 and 10.5. It reduces processor usage when displaying previews and fixes several compatibility problems. Default Folder X 4.3 also provides expert settings to resize all Open and Save dialogs to a user-specified minimum size.
The update is free for users of version 4. Default Folder X costs $35, with updates available for $15 for users who bought the utility before June 1, 2007.—Philip Michaels
Alien Skin Software bundles Photoshop plug-ins
Alien Skin Software has released the Photo Bundle suite, a collection of five plug-ins for Adobe Photoshop and Photoshop Elements.
The $595 collection includes Blow Up 2, for enlarging digital images; Exposure 2, which applies film grain to your images to replicate the look of Kodachrome, Polaroids, and more; Brokeh, for selectively blurring your image to create interesting focus effects; Snap Art 2, which turns digital photos into paintings or sketches; and Image Doctor 2, which offers advanced image-restoration tools.
The plug-ins support Photoshop CS3 and CS4 as well as Photoshop Elements 4.0.1 and later. If you already own one of the plug-ins included in the suite, you can purchase the Photo Bundle for $450.—Kelly Turner
Tape 2 PC converts audio cassettes to MP3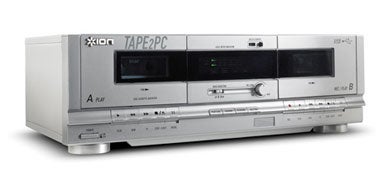 Ion Audio has released Tape 2 PC, a $135 dual-cassette player and recorder with a USB 2.0 connection. It's Mac- and PC-compatible, and includes EZ Audio Converter software that helps converts audio on the cassettes to MP3.
The peripheral plugs into your home entertainment system using RCA cables, and lets you dub copies of audio cassettes. The software includes GraceNote MusicID technology, which analyzes your recordings and adds album, artist, and song information automatically.—Peter Cohen
Akvis Sketch 9.0 conversion tool released
Akvis on Monday announced a new version of its Akvis Sketch software for converting photos into pencil and watercolor drawings that features an improved algorithm for photo-to-sketch conversions. In addition, Akvis Sketch 9.0 adds a new parameter field for edge definition and lets users manipulate the saturation of color pencil drawings.
Other additions to version 9.0 include seven presets: B&W, Sketch, WaterColor, Charcoal Low, Charcoal High, Color Pencil Low, Color Pencil High, and Pastel. Users can now import and export a list of presets.
Registered users can upgrade to Akvis Sketch 9.0 for $39. The software costs $72 and runs on OS X 10.4 and later.—PM