1. Compare on the fly before you buy
With prices and product information so easily accessible online, only the extremely rich and foolish don't comparison-shop. But what about when you're standing in the store with the item in your hand? You're fairly sure it's a great price, or maybe the item is discontinued and you're not sure you'll be able to find it anywhere else. How do you decide what to do? Sol Robots has created Save Benjis ( ), a $1 app for the iPhone and iPod touch that puts a retail shopping search engine in the palm of your hand. Shop for a variety of popular consumer goods—from books and cosmetics to office equipment and home theater systems—using keywords, model numbers, or bar code numbers. The app surveys a long list of big-name retailers and online merchants to find the best price available. Revisit your searches via the recent products screen, or e-mail yourself a link to the best deal. You can even make purchases right from the app itself.
2. Know where your money goes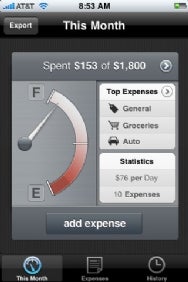 When times get tough, you need to resort to the financial equivalent of a root canal: a budget. But budgeting can be simple with design by a knife's Pennies ( ), a $3 expense-tracking app for the iPhone or iPod touch. Each month, enter your monthly spending allowance. Every time you buy something, enter the amount and assign the transaction to an expense category. Add notes for greater detail. As the month progresses, a gas gauge-like meter shows how much you have left to spend, and stat boxes display your top three expenses and per-day spending average. You can export the data in a .csv (comma-separated values) file and open it in a spreadsheet on your Mac. Once you've tracked a month's worth of expenses, you'll have an informative snapshot of your spending habits. It's up to you to figure out where to cut back. You can't avoid the sobering reality that a budget's limits impose, but the budgeting process doesn't have to be as stressful or complex as you may fear.
3. Do the math before buying in bulk
Is it always more economical to buy in bulk? You won't need to wonder when you've got Frugal ( ), the $1 iPhone and iPod touch app from Tidal Pool Software that helps you compare prices and quantities to find out how best to stretch your money while shopping. Most major retailers provide helpful price breakdowns on their store shelves (per ounce, per pound, per item, and so on) that can make comparison-shopping painless. But when that information isn't available—or when product information is given using different units—Frugal crunches the numbers for you in an instant. Compare two or more products at a time in imperial or metric units within one of four categories: number of items, weight, volume, or length. Enter price, quantity, and units using big calculator-style keys. Frugal shows the price breakdown and picks the best value. A history screen saves your comparisons for future reference. Know when to pull the trigger on a good deal—and when to save yourself the hassle of lugging home a year's worth of canned green beans for the sake of saving a few cents.
4. Monitor your energy consumption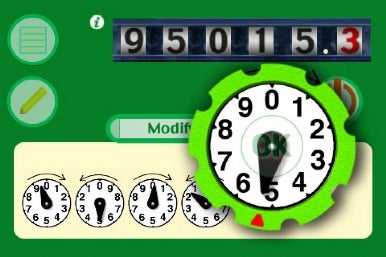 Powering down your Mac every night used to be a way to make a statement about your commitment to the environment. Now it's also a way to make a statement about your commitment to your bank account. One surefire method for cutting energy costs is to keep tabs on how much energy you consume. There's no better motivation for unplugging appliances, turning off lights, or scaling back use of the air conditioner than the sight of those spinning dials on the electric meter as they count up the kilowatt hours you burn away each month. Zerogate's $5 MeterRead ( ) for iPhone and iPod touch provides a handy method for recording periodic meter readings so you can get a grip on your monthly energy costs. Each time you enter a reading, the app estimates your 30-day energy consumption based on your current pace. You can set up multiple meters for home, car, and solar energy, and track day and night usage. MeterRead supports four- or five-dial meters and analog or digital readouts. Save cash while you save the planet.
5. Find the cheapest gas
Shopping online makes bargain hunting easier and cuts driving time. But there's at least one thing you can't buy without driving to get it: gasoline. You can, however, hunt for cheap gas online without driving from station to station to find it. With United Communications Group's iGasUp ( ) for the iPhone and iPod touch, you can retrieve a list of the ten local gas stations with the cheapest prices, complete with a map and driving directions. The app determines your location and searches the Oil Price Information Service database to find the best prices within a distance that you select, ranging from 1 to 15 square miles. iGasUp's results are rarely more than two days old and are often as recent as within the hour, giving you an idea of how likely it is that the price you see is the price you'll get. You don't buy iGasUp; you subscribe to it for a year for $3. With the way gas prices fluctuate, it probably won't take long to reclaim that in savings.
Tony Craine contributes iPhone app reviews to Macworld.com. He is a writer and voice actor in Chicago.