Soccer fans have reason to celebrate with the release of X2 Soccer 2009 from X2 Games. The developer has managed to capture the spirit of soccer on the iPhone and iPod touch, setting the bar high for other sports apps.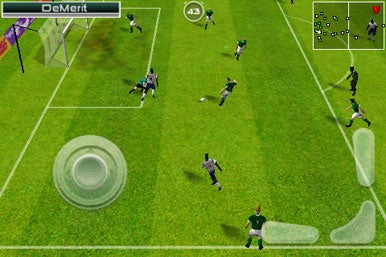 Playing the game is as exciting as it is technical with the ability to pass, throw, cross, shoot, pressure, tackle, and preform head shots or upside down bicycle kicks.
X2 Soccer 2009 offers four different mode of play—Exhibition, Penalty Shootout, training, and tournament. In Tournament mode, you can play for national and international cups or compete in league tourneys. You can view your team's stats so far in the tournament as well as handle detailed team management by assigning formations, team captains, substitutes, and much more.
The controls in X2 Soccer are unobtrusive, responsive, and efficient, with only the buttons that you need on the screen when you need them. A virtual joy-stick instantly appears under your thumb anywhere you touch on the left side of the screen. This floating control concept is the next step in virtual control evolution and goes a long way in making up for the lack of tactile feedback.
Three buttons on the bottom right of the screen allow you to switch players, goal kick, pressure, pass, preform sliding tackles, and more. Different shots and passes are powered up by holding the button down as a power meter fills up, resulting in long lob throws or 20-yard gaol kicks. A quick double tap anywhere on the right side of the screen causes your player to do a skill move to get around opponents. At the top right of the screen, a Field map shows the location of off-screen players you may want to pass to.
X2 Soccer's instant replay system is full-featured with complete playback controls to play, pause, scrub, zoom, and even manipulate the view in true 3-D. Panning around in 3-D is done by dragging a finger around the screen during playback. For an even greater effect, you can select slow motion playback. You can even save your unbelievable goals to show off to your friends later.
X2 Soccer has outstanding graphics and some realistic player animations that get you fully immersed in the game. Adding to the level of immersion is the roar of the crowd and in-game commentator voice-overs. You can even select songs from your music library to create your own soundtrack for games.
X2 Soccer 2009 is a true pleasure to play and a shoe-in for any fan of soccer. The overall experience is true to life, making X2 arguably one of the best sports games so far on the iPhone and iPod touch. (Fans of Real Soccer 2009 [ ] might mount a vigorous counter-argument.) The only thing X2 Soccer lacks is a multi-player mode, though X2 Games hopes to offer one via update by the end of the year. The $7 game also has a free lite version, which limits you to the training and penalty shot modes.
X2 Soccer 2009 is compatible with any iPhone or iPod touch running the iPhone 2.1 software update.
[Tim Mercer is a technology enthusiast, graphic designer, and blogger, whose blog, digital-artist-toolbox.com, offers free resources to the digital artist and graphic designer.]