Rise of Lost Empires is Gameloft's take on a real-time-strategy game for the iPhone and iPod touch in the vein of Warcraft. Gameloft's $5 offering combines elements of both real-time-strategy and role playing making for a fast-moving but still strategic game.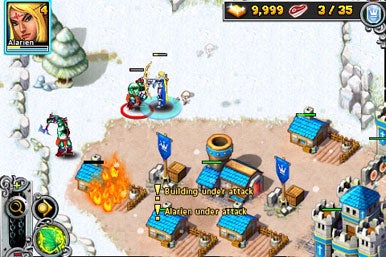 An epic battle between humans and orcs rages on, and you must do your part to ensure victory for your side. Rise of Lost Empires features two campaigns, each with 10 chapters. In the first campaign, you fight on the human side; in the other, you play from the perspective of the orcs.
The game centers around heroes who lead your armies into battle and cast magical spells. There are a few different heroes to control—a sorcerer, archer, warrior, and so on. In some chapters, you control multiple heroes at a time. Each hero has unique abilities and spells as well as superior health and strength. They can heal or boost the stats of the troops and cast damaging spells on the enemies. If a hero happens to die, you can resurrect them back at your base and return them to action in no time—though it'll cost you some gold.
You control your heroes by selecting them, and tapping on the screen—whether it's tapping to where you want your hero to go or an enemy you want them to attack. To select several units at once, you drag out a square with two fingers around your heroes. A slider on the bottom left of the screen handles zooming in and out, while dragging a finger around on the screen lets you pan.
The controls work pretty well, but in a large battle keeping all your units organized can be a challenge. Directing stray units back to the action is especially difficult, as the game's camera keeps trying to go back to your selected hero. When your forces are spread out beyond the edge of the screen, you are unable to select them all at once. While unit selection and organization can at times be problematic, Rise of Lost Empires still manages to be an enjoyable experience.
Like in most real-time strategy games, you construct buildings and train troops, but the more tedious tasks like collecting resources have been eliminated. Instead, farms constantly add to your gold and food stocks, keeping Rise of Lost Empires centered more around quick action.
You can construct 20 different buildings, which are capable of pumping out units, boosting your army stats, or fortifying towns. There are also 20 different types of units—archers, dragon warriors, war machines, and the like—each with their own abilities.
Visually, Rise of Lost Empires shines with its great looking buildings, landscapes and characters all rendered in a cartoon-style reminiscent of classic RTS games. There are also some cool animations like falling snow or birds flying around, as well as nice spell casting effects.
The game also has great sound effects, from the clinking of swords on armor to the crackling of burning buildings. It's all set to the backdrop of a rousing soundtrack. There are even several character voice-over snippets, adding to the overall experience.
Rise of Lost Empires strikes a good balance between classic RTS gameplay and a focus on action in a way I find appropriate to the iPhone platform. Instead of spending a lot of time gathering resources, you're constructing buildings and amassing armies to crush the opposition. I did occasionally experience a little lag when engaged in very large battles but it wasn't a big issue.
Overall, Rise of Lost Empires is worth its $5 asking price, though a skirmish mode or online battles would greatly add to its value. Rise of Lost Empires Free lets you play through the first few chapters to see if you like it before upgrading to the paid version.
Rise of Lost Empires is compatible with any iPhone or iPod touch running the iPhone 2.2.1 software update.
[Tim Mercer is a technology enthusiast, graphic designer, and blogger, whose blog, digital-artist-toolbox.com, offers free resources to the digital artist and graphic designer.]