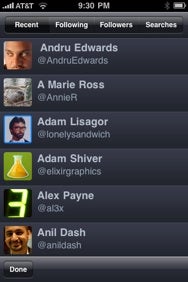 When it comes to the candidacy for King of iPhone Twitter Clients, Twitterrific 2.0 stands among a select few atop a steep hill of pretenders to the throne. Soon, the Iconfactory's polished Twitter experience will take one step closer to the crown with a major 2.1 update. And wouldn't you know? Some of us at Macworld had the privilege of helping to beta test.
One of Twitterrific 2.1's biggest new features is built-in video recording and posting for iPhone 3GS owners. You can now flip that switch in the camera and tell your story with video, or you can pick a pre-recorded clip from the Camera Roll. You can use Apple's provided tools for trimming the video before uploading, and you have a choice between yfrog, TwitVid, and Posterous for publishing your fancy movin' pi'tures.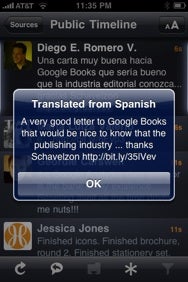 Next on the headline feature list is a new contact sheet that makes it much easier to interact with your Twitter friends. From either Twitterrific's main window or the tweet creation interface, tapping the new rolodex-card-like icon will display a sheet of your followers, followees, a username search box, and a list of the most recent people you've interacted with. This is a convenient way to add multiple @names to a tweet or quickly track down someone for a direct message.
There is a virtual ton of other new features and bug fixes in Twitterrific 2.1, starting with landscape mode for the built-in browser, a "load more" button at the bottom of the timeline, and a "translate tweet" option in the action menu. A good set of new tap-and-hold menu tricks allow you to copy things like a tweet's text or URL, and you can add links to Instapaper (with new support for accounts with passwords) right from a tweet without having to actually follow through to the site. There are new bits of Twitter integration sprinkled throughout as well, such as an indicator on author pages as to whether that user follows you.
Iconfactory says it submitted Twitterrific 2.1 to the black hole App Store on August 6. Barring any "OMG, the Internet is dangerous!" rejections, you should be able to embark on your own video-rrific Twitter adventures soon.
[Updated at 10:12AM pacific to correct submission date to the App Store]