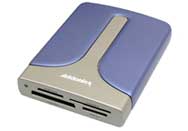 On Monday Addonics announced a flash memory card reader that has support for a external Serial ATA (eSATA) connection.
The new portable Pocket eSATA/USB DigiDrive has an eSATA port that offers a data transfer rate of 1500mb per second (depending of the type of memory card being used), according to Addonics. The device also has a USB 2.0 port with a data rate of 480mb per second. There are slots CompactFlash (CF), Secure Digital (SD/SDHC), MultiMediaCard (MMC), and Memory Stick (MS).
In order to use the Pocket eSATA/USB DigiDrive on the Mac via eSATA, you need an eSATA connection, which isn't offered as standard or optional equipment on any Mac. Mac Pro users can add eSATA ports by adding an eSATA expansion card. Owners of Apple laptops that are equipped with ExpressCard slots can use an eSATA ExpressCard. Mac mini and iMac owners are unable add eSATA to those machines. (You could use an eSATA-to-USB or eSATA-to-FireWire adapter, but you won't be able to take advantage of eSATA's speed.)
Two models of the Pocket eSATA/USB DigiDrive are available, one that offers read-only functionality of memory cards, and another that can read and write to memory cards. Each model is priced at $64 and comes with a one-year warranty.