Around two months ago, I decided it was high time I bought a bicycle. I talked to a few friends, headed out to a local dealer, and picked up a pretty sweet ride. Since acclimating myself to two wheels, I've become more adventurous, taking on trails and much longer rides—and that's created the need for me to find something that tracks where I was going, how fast, and for how long.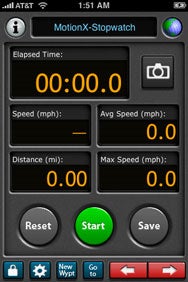 After a few false starts with some other App Store offerings, I grabbed a copy of MotionX GPS. With this $3 app from MotionX, I think I've found one of the best GPS offerings in the App Store—if not the best.
MotionX GPS is based on Fullpower's motion technology platform which allows the app to function with the same level of accuracy you would find in a dedicated GPS receiver. On top of providing the basic location-detecting abilities you'd expect from any GPS, MotionX includes a great feature set for tracking your progress with maps and gauges as well as exporting this information for you to study or share with friends.
Read more…
The basic operation of the app starts with the stopwatch. Pressing start will place an initial waypoint on the map and begin tracking your movement with the GPS chip in your iPhone. If the GPS can't obtain a good satellite connection, the app will triangulate your approximate location using cell towers or Wi-Fi. While tracking your route, MotionX will also keep track of your average speed, top speed, distance, and minimum and maximum altitude, all of which can be saved to the app's logbook, which manages all of your saved tracks. Along the way, you can also take photos which will be attached to waypoints and saved to the track.
MotionX GPS' maps are extremely robust with the option to use road maps or terrain maps as well as caching this data so you can access the maps offline. As with the Maps application that comes with the iPhone or iPod touch, you can easily find your current location using a crosshair icon on the maps screen. You can also use the Track screen to view previous waypoints on the map in relation to your current route. The waypoints screen shows you previous waypoints and your current distance from them; you can create new waypoints and edit them, including manually entering latitude and longitude. A compass in the app keeps you headed in the right direction, while a status menu gives you current coordinates.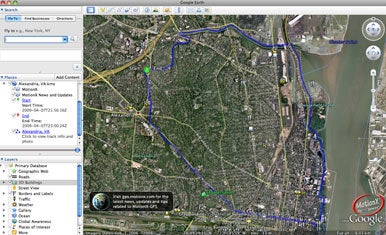 Say you've finished your route and you'd like to either evaluate the data or pass it along to your friends. MotionX GPS lets you e-mail your saved track as a KMZ (Google Earth) and GPX (Open map standard) file. In addition to e-mailing the data, you can share it with the MotionX community or post it to your Facebook account right from within the app.
What really makes MotionX GPS so great is the developer's extensive attention to detail—the units of measurement and navigation are fully configurable along with display format—as well as the app's complete functionality. While MotionX GPS may take a bite out of your battery, the developer even provides the option of turning off accelometrics-assisted GPS to save power.
As if all these great features didn't impress you enough already, MotionX responded to the cries of the community by including iPod functionality within the app, so you can still listen to your favorite tunes while MotionX GPS continues to track your movements. A recent updated also added magnetic compass integration with the iPhone 3GS.
The only features I found missing were the ability to automatically generate waypoints over a period of time and a more detailed display of climb and descent over time. The latter feature would allow you to use the information more accurately for training purposes.
In addition to the full version of MotionX GPS, MotionX also offers a free lite version, which limits the amount of tracks and waypoints you can have and removes customizable features such as display formatting and waypoint visibility. Regardless of which version you use, anyone who downloads the MotionX GPS app should check out the extensive documentation provided in the app itself and on the MotionX Web site.
MotionX GPS is compatible with any iPhone 3G or 3GS running the iPhone 3.0 software update.
[Rob de la Cretaz is a full-time polymath and a proud resident of Pittsburgh.]