Sony Pictures Television's Jeopardy, a $5 recreation of the television game song whose theme is already stuck in your head, plays a lot like the iPhone version of Wheel of Fortune: The game is a competent tribute to the TV show, with some obvious flaws.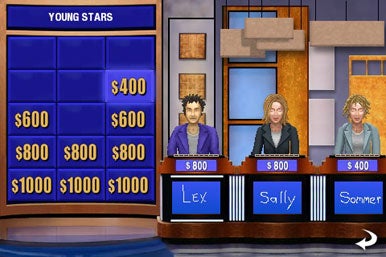 Jeopardy scores points for its clever customizable options. You can create your own avatar, adjusting various elements of your appearance until you're satisfied. Even better, you can scrawl your own signature by hand, to better customize your podium. It's a small but nice touch.
Jeopardy gameplay on the iPhone differs from the TV show in two interesting ways: First, the game board features only three categories (instead of six). Second—and more alarmingly to Jeopardy purists—answers are selected from amongst three multiple choice options. I understand why the developers would choose to go that route; tapping on the correct answer is certainly simpler than pecking it out—in question form—on the iPhone's virtual keyboard. But it certainly has the added effect of making the game much, much easier than the televised version. In my book, this over-simplification of the game is to its detriment, since much of the real Jeopardy's appeal is in its sometimes impossibly high degree of challenge.
The game offers three different difficulty levels, ranging from easy to hard. On each of those levels, you compete against two computer-controlled opponents. The characters are animated cutely, and the joyous reactions that players exhibit when they pick the Daily Double are charming. Although your computerized opponents are given names, the game only ever refers to them as "Player2" and "Player3," which seems bizarre. Even more oddly, sometimes both opponents will give the same wrong response during the game, which is more than a little dopey.
Jeopardy for the iPhone doesn't always do a great job keeping you informed when you need to make decisions. For example, if you're not paying attention when the categories are first announced, you can only see one of the three category names before you select a square from the grid ("Potent Potables for $200"). And when you need to pick an amount to wager for the Daily Double for Final Jeopardy, seeing your opponents' scores would be tremendously useful—but you can't.
The game aggregates your stats over time, including your total earnings. There's also a Single Player mode that's a little faster to play, but it feels a little silly since you can "pass" (not answer) as many times as you'd like.
In spite of its weaknesses, Jeopardy! for iPhone still engages my inner trivia buff—though I wish it were truer to the original.
Jeopardy is compatible with any iPhone or iPod touch running the iPhone 2.2.1 software update.
[The answer: He is a frequent Macworld contributor.]