Moon Drop, a $1 game from NimbleBit with a free lite counterpart, is a small, enjoyable diversion.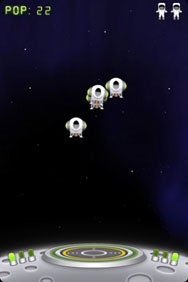 Your mission is to guide various space pods as they prepare to descend onto the moon. You control the pods by touching the screen; they're equipped with sensors that automatically repel away from your giant space finger.
It took me a few minutes to get good at controlling the pods, finding the right mix of longer taps vs. short bursts. But once you master the art of the gentle, centered landing, Moon Drop offers some nice, relaxed fun. As more and more pods appear at once that need simultaneous cajoling, the game gets more hectic—though, fortunately, not in a frustrating way.
The game's sense of humor shines in the messages displayed when you clear each wave of landing pods. (An example: "This brochure says the light of the moon is powered by 4.6 million D cell batteries.") Moon Drop is well-suited to quick moments of play when you have a free minute or two; the game saves your progress. Even though it's fairly repetitive, the game is entertaining enough in those small doses.
The free Moon Drop Lite is identical, but limited to fewer levels. It's a great way to try out Moon Drop and see if its spacey gameplay is right for you.
Moon Drop is compatible with any iPhone or iPod touch running the iPhone 2.2.1 software update.
[ Lex Friedman is a frequent Macworld contributor.]