It's taken a while, but the mainstay apps in mobile computing—those intended for mobile business users who need to stay productive—are making their way to the iPhone. Take Quickoffice Mobile Office Suite, a full-blown suite for viewing and editing both Microsoft Word and Excel files.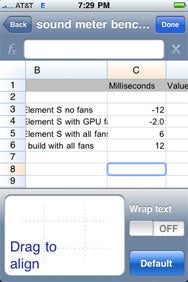 Previous offerings from developer Quickoffice included Quicksheet ( ), an app for viewing and editing Excel files, and Quickoffice Files ( ), a file viewer. Quickoffice Mobile bundles these apps into one offering, currently on sale for $13. With some similarities to Documents To Go for iPhone, and some trade-offs, Quickoffice is a good buy.
The main advantage of Quickoffice over Documents To Go is that you can view and edit both Word 2003 and Excel 2003 files. In Documents To Go, you can only edit Word 2007 files—although DataViz promises Excel 2007 editing support soon. The trade-off with Quickoffice is that you can only edit the older Office 2003 format, not the newer Office 2007 format (used in Office 2008 for the Mac). Quickoffice is making its own promises to support the Office 2007 editing imminently.
For Word and Excel files, Quickoffice's editing features are rich and deep. When you open an Excel file, you can format the cells, adding a background color or cell border, experiment with formulas, and adjust font size and style. You can even edit cells in-line—meaning, when you double-tap you can edit the cell directly, not in a separate field above the spreadsheet.
Word editing is extensive. You can add highlighting, change fonts, and add bullets. Quickoffice uses a more intuitive, Mac-like interface for common functions than Documents To Go. When you want to justify text, you drag and release sample text in a small preview box that shows how your document will look. In Documents To Go, formatting is a bit more menu-driven and not as visual. Documents To Go does offer a word count feature, and a more obvious undo/redo option.
Quickoffice goes well beyond editing. Since the suite integrates Quickoffice Files, you can upload files to a public folder in MobileMe and view them from your iPhone. Or, you can use a Quickoffice e-mail address (files@quickofficeconnect.com) to send attachments. This method is faster because you can send a group of attachments quickly. Quickoffice also provides a way to upload files through your browser using an IP address, although in my tests, that feature proved flaky—the site would stall out or not appear at all. You can upload multiple files at once, but the browser method is prone to time-outs, so it's usually easier to send e-mail attachments. Quickoffice does not directly support Microsoft Exchange attachments at all.
Quickoffice supports iPhone 3.0's undo feature—you shake the phone to undo or redo the last edit in a Word or Excel file—and copy/paste features. Not to be outdone by Documents To Go, Quickoffice supports image formats like PNG and BMP, PowerPoint, and text files. The app does not support OpenOffice ODT files, and has problems with very large PowerPoint files over 20MB—in my tests, the app crashed to the home screen on the iPhone for those files. (Quickoffice says this is because the iPhone does not have enough RAM to handle large files.)
At this moment in time, Quickoffice is the best app I've found for editing Word and Excel files. It also provides the most flexible options for getting files onto the iPhone, whether by mail attachment, through MobileMe, or as an upload from the Mac Safari browser. It's stable (except for the PowerPoint large file problems) and runs fast. Overall, Quickoffice is a bit easier to use than the document viewing alternatives—I highly recommend it.
Quickoffice Mobile is compatible with any iPhone or iPod touch running the iPhone 3.0 software update.
[John Brandon is a 20-year veteran Mac user who used to run an all-Mac graphics department.]