:Shift: began life as a Flash game on the Web. The $1 port to the iPhone by developer Armor Games is excellent, and I find that the new touch-screen controls make the game more satisfying to play than ever.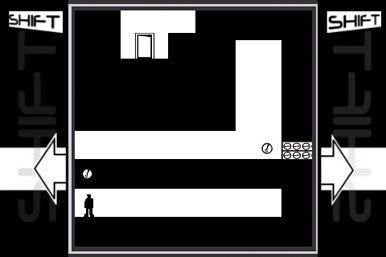 The first few levels of the platformer explain your predicament: You're trapped in an odd building, an unhappy subject in a cruel experiment. On each level, you need to figure out the path to escape. You can move left or right (by pressing on the appropriate side of the screen), or jump (either by tapping both buttons simultaneously or tapping in the middle of the screen).
Oh, and there's one devilishly clever twist: In this monochrome game, black is white and white is black—sometimes. When you need to—and you'll frequently need to—you can "shift" the game, which flips the playing field and inverts the colors. Now empty space becomes walls, and vice-versa. It's unique, ingenious, and superbly fun.
Early levels do a great job explaining the game's few intricacies, and the complexity ratchets up quickly. Some levels took me a while, and I'm comfortable enough to admit that on occasion, I needed to consult a walk-through when I got stuck. Fortunately, even when you die (flashing the game's sole bit of color—your bright red blood—you're able to pick up right where you left off.
The free :Shift Lite: is as fun as the full version, but not surprisingly, features far fewer levels. The full version of :Shift: doesn't just include the original's 75 levels; it adds 25 new ones exclusive to the iPhone. Several web-based sequels to the original game exist, and I'll be sure to install any that make their way to the App Store.
:Shift: is compatible with any iPhone or iPod touch running the iPhone 2.2.1 software update.
[ Lex Friedman is a frequent Macworld contributor.]