Quake Live, the Web browser-based version of Id Software's popular first-person shooter, is now playable on the Mac. The company updated the Web site on Tuesday to allow Mac users to play.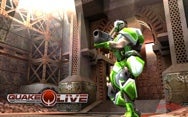 Quake Live is essentially a reworked version of Quake 3 Arena, designed for free play in a Web browser using a plug-in. Users create an account and play against each other. The game features more than 40 arenas and five game modes. You can play against other gamers or practice and compete on your own against "bots," or computer-controlled players.
The game first went online as a public beta version earlier this year, but only for Windows users. Id Software's Marty Stratton noted that Quake Live for Mac was a top priority when he posted about the status of the game's developments to Id Software's forums this past May.
Speaking to the assembled throngs at QuakeCon 2009, Id Software's annual gathering of enthusiasts in Texas, Id president Todd Hollenshead announced the game would go live for Mac and Linux on August 18.
System requirements call for Mac OS X 10.4 or later and Safari 3.0 or later. Id Software notes an issue with "the very latest version of Firefox on Mac," so this release is intended for Safari only.