The best games for the iPhone or iPod Touch are usually ones that wouldn't really translate well to other platforms because of the unique way they're played. DrawRace from RedLynx is just such a game. This instant classic takes advantage of the iPhone's touch screen and constant connectivity to deliver racing action in an innovative way.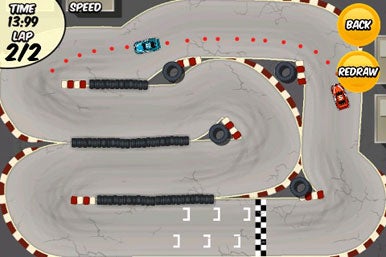 The concept is simple—you draw a path around the track and when the race begins, your car follows that path. The speed at which you draw also determines the speed of your car on the track.
DrawRace takes physics into account, so if you go too fast around a sharp corner, you'll spin out, costing yourself precious time. Take, for instance, the oval track—just as in real life racing, you want to turn the oval into a circle to achieve the fastest time.
DrawRace has 20 tracks to race in all different shapes and sizes. Beating the computer on a track unlocks it for multi-player mode. You and two friends can race against each other on the same device, taking turns drawing paths on the track and then watching to see who wins, or you can race against the ghost car of players around the world. In the latter option, a random opponent from the leaderboards is chosen for you; hopefully, a future update will allow you to choose an opponent yourself. (iPod touch users take note: you'll need a Wi-Fi connection to compete online.)
DrawRace stands out with its great graphics, sound, replay value, and a unique concept. You will definitely get your dollar's worth with this one.
DrawRace is compatible with any iPhone or iPod touch running the iPhone 2.x software update.
[Tim Mercer is a technology enthusiast, graphic designer, and blogger, whose blog, digital-artist-toolbox.com, offers free resources to the digital artist and graphic designer.]