Unless you're already familiar with the franchise, you wouldn't guess that Power Pros Touch is all about baseball. The series known as Jikkyo Powerful Pro Yakyu in Japan is famous for its arcade baseball action with tiny characters sporting unusually large heads. This console staple has now found a home on iPhone and iPod touch, courtesy of Konami Digital Entertainment.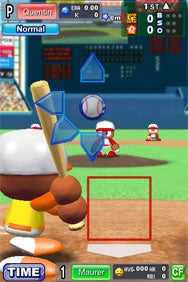 You start by choosing an exhibition game, or you can play an entire season of 25, 50, or 162 games. Set the game difficulty, the number of innings per game, and even options such as whether there's a designated hitter, errors, or wind. You won't be able to field your favorite Major League Baseball team—those licensing rights do not come cheaply. Instead, you choose from one of six teams with names like Golden Fox, Pegasus, and the Pawapuro Stars. While the teams are each distinguished by a colorful logo, during gameplay, players are primarily differentiated by just their uniform colors.
Gameplay can be as simple as a few taps to control the action, or it can become more complex thanks to a myriad of options. To pitch, select one of five pitches and tap where you want to throw the ball—there's even a small window to keep tabs on base runners so you can attempt the pick-off play. Fielding is largely automatic, but you can elect to make some of the fielding decisions.
To bat, you'll need some timing to tap the ball as it crosses the plate. With practice you can attempt big swings that send the ball further; you can also opt to bunt. You can have the game handle base-running, or you can take control of it yourself.
Each player on your team is ranked in five categories, making them unique. You're free to adjust your lineup or make position changes—so you're not only making the plays, you're the manager too.
Thanks to its many selectable options, Power Pros Touch is an excellent arcade baseball game. Superb menus, excellent animations, and terrific sound effects and music provide an immersive and fun baseball experience. Stat junkies won't be disappointed, either—you can track stats on each of your players.
It would have been nice to have a few more teams. A 162-game season can be pretty long when you're playing the same five opponents. Also, there is no multiplayer mode, so you'll be battling the AI exclusively. But if you can accept these limitations, Power Pros Touch is a great way to play a little hardball on your iPhone or iPod touch.
Power Pros Touch is compatible with any iPhone or iPod touch running the iPhone 2.2.1 software update.
[James Savage is the host of the RetroMacCast a weekly podcast devoted to older Macintosh computers.]