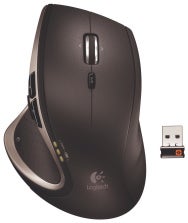 Logitech on Wednesday expanded the company's line of high-end mice with two models that offer enhanced scrolling capabilities. Thanks to the company's new Darkfield Laser Tracking, the desktop Performance Mouse MX (similar to the MX 1100) and the portable Anywhere Mouse MX (similar to the VX Nano) can be used on virtually any surface, including glass, granite, and lacquered wood. According to Logitech, whereas standard optical and laser mice rely on visible irregularities on the mousing surface to detect movement—an approach that makes glass and glossy surfaces difficult to track—these new mice use dark-field microscopy to detect microscopic particles and scratches.
The two RF-wireless mice also feature Logitech's dual-mode scroll wheel that works in either the traditional one-click-one-line mode or a special freewheel mode. Both also use the company's new Unifying receiver, a tiny USB dongle for wireless connectivity that supports up to six Unifying-compatible keyboards and mice simultaneously. This means, for example, that you need only a single USB dongle for both a keyboard and a mouse. (Compatible Logitech models include the Keyboard K350, Keyboard K340, Marathon Mouse M705, and Wireless Mouse M505.)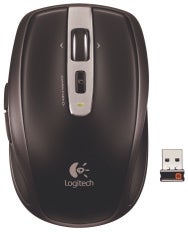 The $100 Performance Mouse MX is a right-handed, full-size model with an ergonomic design, four additional customizable buttons, and force-sensitive side-to-side scrolling. A micro-USB port lets you recharge the mouse's battery via your computer or the included power adapter, even while using the mouse. The $80 Anywhere Mouse MX uses a symmetrical design, although the mouse's two thumb-activated buttons are designed for righties.
Both models should be available this month.