For some reason, my mother never said that to get things done, I'd better not mess with Major Tom. If she had said it—I never really understood why anyone's mother would, but let it pass—she would have been absolutely right. iKlax Media's Remix David Bowie—Space Oddity is an engrossing little timewaster app for the iPhone and iPod touch that lets you rearrange Bowie's 1969 classic single.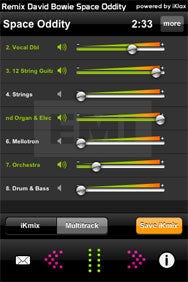 Remix David Bowie presents the eight separate recorded tracks of "Space Oddity," including the two vocal tracks, 12-string guitar, strings, organ and electric guitar, mellotron, orchestra, and drum and bass. Sliding buttons let you manipulate the volume mix of each track, creating a new listening experience. You can mute a track by tapping the volume icon. The app comes with a few remixes built-in. You can also shake your handheld for a random mix. (Recommendation: Listen to each track separately, and you will never hear the song the same again.)
But this isn't one of those mash-up makers so hip with the kids. You cannot add new instruments, song samples, breaks or beats. You simply re-mix the tracks as Bowie recorded them. Which, as it turns out, is plenty fun in itself.
Amusing as the app may be, the interface on Remix David Bowie leaves a bit to be desired. One of the tracks on the mixer is cut off—you need to scroll down for the drum and bass and scroll back up for the primary vocal. Sloppy. Also, the slide button controls on individual tracks are not unlike Major Tom's space ship and occasionally don't respond to human control.
More disappointing is the inability to share your creation, other than to save your mix and pass your iPhone or iPod touch around to friends. The e-mail feature only sends a recommendation for the app. And you cannot export your song into your iTunes library.
Those are perhaps minor quibbles. Truth is, Major Tom has been floating across the cosmos in a most peculiar way for 40 years now, and iKlax Media has given Bowie fans a way to make his weird trip fresh again.
Remix David Bowie—Space Oddity is compatible with any iPhone or iPod touch running the iPhone 2.x software update.
[Ben Boychuk is more of an Aladdin Sane than a Ziggy Stardust guy. He's a columnist and freelance writer in Rialto, Calif. Feel free to e-mail him.]