If you dance—anywhere from a rave to your junior prom—you've seen it. The music is loud, the lights are low. Dancers are moving in time to a hypnotic beat. Suddenly, the spell is broken as movements become disjoint and jerky. What happened? The music changed—and, as it did, so did the beat. Suddenly missing their reference point, dancers have to work to reestablish their mental and physical connection to the music.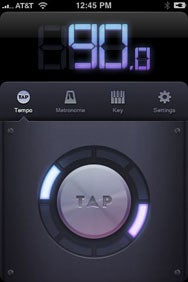 That's why DJs, especially ones spinning at a club or dance, will take pains to ensure their set delivers a consistent beat. Dancers can then slip effortlessly from one song to the next. But just how to determine which songs match up?
Beats, a $2 app from Bjango, provides an easy-to-use and appealing solution that will be of use to DJs, musicians, producers, and others.
Back in the day, disc jockeys and producers seeking a song's number of beats per minute (BPM) did it the old-fashioned way—they counted by hand. It didn't take long before industrious DJs realized they could compile—and sell—printed or online databases containing the information. But even that wasn't a perfect solution since you might have a mix of a song that didn't match up with the database.
Beats provides three features that solve these problems for DJs and others—a "tappable" beat counter that can be used with any song, a metronome, and a key mixer.
The beat counter is simple and intuitive to use. Simply listen to a song and tap your iPhone's face in time with the music. A digital display reveals the number of beats per minute. A unique "intelligent averaging" feature refines that measure the longer you tap, producing a more accurate count.
Selecting the metronome from the beat counter transfers the current BPM count, making it easy to compare the discovered tempo with another song. You can also dial in a specific count if, for example, you're playing an instrument and need help keeping time. Beats offers four different sounds for the metronome.
Finally, a key mixer provides a way for you to tap on a keyboard to identify the key of a song—and other keys that will mix harmonically. An extensive help section on the Bjango Web site offers details on how to use the app, along with an explanation of the underlying musical concepts.
Thanks to that feature set, Beats provides a useful tool for DJs, musicians, mix-tape creators, and the curious looking to better understand the structure of their music.
Beats is compatible with any iPhone or iPod touch running the iPhone 2.2 software update.
[Dale Gardner is a freelance writer and aspiring photographer who lives in Northern Virginia. Follow him on Twitter.]