Attorneys, real estate agents, and accountants all have one thing in common: they're still using fax machines. When nothing else will do except a hard copy of your signature, then faxing is a must. Unfortunately, fax machines and going mobile don't go together too well, unless you use Maplewoods Associates' exceptional iFax app—a tool that does one thing and does it well.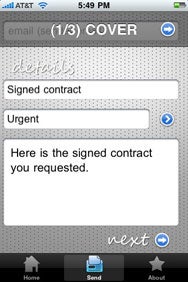 Interestingly, iFax has some commonality with scanner apps like JotNot and DocScanner—you snap a picture of a document, and then send it to your intended recipient. The similarities end there, however.
Scanning tools don't really take the place of a desktop scanner, because a scanner still serves other functions, such as high-res photo scanning and image-to-text conversion. But with iFax, you can probably ditch your fax machine—at least, if you only send faxes and you don't need to receive them. (For that, just use the free eFax.com service.)
iFax is a useful app because of how it takes advantage of the iPhone camera. (iFax lists compatibility with the iPod touch as well, since—in theory—one could attach an image stored in the photo library, but you really need the built-in camera to get the most out of this app.) One common use: you can print out a contract on your Mac, sign it, and—with iFax—snap a photo of the contract and fax the document. Or, you can just compose a basic text message and send the fax without the effort of typing a doc, printing it, and faxing. Any app that means you can skip antiquated hardware such as fax machine is worth having, even at the slightly overpriced $15.
Yet, iFax is a also well-designed app: there's a wizard that walks you through the process of typing the fax number, setting the urgency, attaching photos and documents, and sending. One trick—you can snap a screenshot of anything shown on your iPhone (just hold Power and press Home), such as a Web page or PDF, and then attach them to a new fax and send. I'd prefer built-in PDF functionality for the price, though, so you can fax any PDF. iFax does not require that you sign up for any fax services or even create an iFax account, a major time-saver.
Faxes take quite some time to send through the iFax service—about 20 to 30 minutes—but the service worked reliably in my tests. Also, iFax doesn't do anything other than help you compose and send a fax. There are no features for storing faxed documents, cleaning up an image by making it sharper or brighter—e.g., making a signed contract you photographed look more legible—or even keeping track of fax numbers, although you can add a number from iPhone contacts.
I did notice one goofy limitation. To reduce fax spam, you can only send one fax to the same number every six hours. If you deal with a lot of contracts, and need to fax back to the office frequently, then iFax might not be the tool for you. Also, I should mention that fax quality is highly dependent on the quality of the iPhone photo you take. Usually, documents look clear—although in some cases text looked a bit chunky and pages looked too dark. Some users have reported problems sending faxes—iFax worked well for the US numbers I used. The app does not support international faxing, however. For the price, it probably should.
What I like about iFax is that it replaces hardware on your desk, and it means the iPhone has even more functionality. iFax worked well, even after sending several faxes, and I never had any crashes or problems. The app is well-designed, too. Combined with a Web service such as eFax.com for receiving faxes, iFax is a tool that I highly recommend—unless of course you do not work with any attorneys, real estate companies, or accountants.
iFax is compatible with any iPhone or iPod touch running the iPhone 3.0 software update.
[John Brandon is a 20-year veteran Mac user who used to run an all-Mac graphics department.]