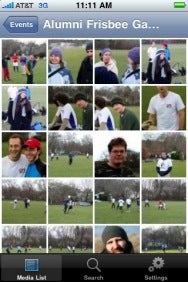 It used to be commonplace to carry pictures of loved ones in your wallet, but the iPhone makes showing off pictures even easier. Of course, you have to remember to sync the right photos to your device and, even with the iPhone's capacious storage, there's not always room for the massive number of digital pictures we shoot nowadays.
Enter Simplify Photo, from Simplify Media, the same folks who brought us music-streaming app Simplify Music. In case you missed it, their mission is to simplify our media consumption. This time, the focus is on photos, but the app is extremely similar to its audio-centric predecessor and, in fact, they share resources: install Simplify Media's desktop app on your Mac, and it can serve up both your music and your photos. Then you can view the photos no matter where you are, using the desktop Mac, Windows, or Linux clients or the mobile iPhone app.
I had a chance to check out the Simplify Photo app before its release and it does its job efficiently and—as you'd expect—simply. You can browse photos by month, albums, or events, or search for keywords, titles, and comments. Viewing photos you can easily flick through them, and switch between landscape or portrait modes; there's also a slideshow option, and you can even save pictures to your phone's Camera Roll.
Sadly, though, there's no way to zoom in and out of the images (presumably as they're scaled down for traffic consumption) and if you have videos in your iPhoto library, it won't let you play them (though it will display a still frame of that movie as a picture).
Still, it's a great way to easily have access to all of your photos—I shared out my over 10,000 picture iPhoto library, and after the initial indexing things were pretty speedy for the most part. Obviously, it's slower than viewing photos that are stored locally on the device, but it's more than usable. It did at one point reduce the number of albums I could view in iPhoto on my laptop, to improve performance, but your mileage may vary based on network performance.