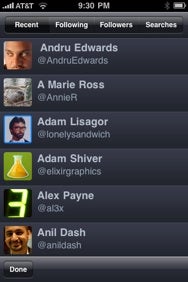 We gave you a sneak peek at Twitterrific 2.1 for iPhone earlier this week, but you should be able to grab a copy for yourself today. The Iconfactory's Craig Hockenberry tweeted (of course) that the new version was just approved, so it should appear in the App Store soon; possibly even by the time you read this.
For a recap, Twitterrific 2.1 brings a virtual ton of new features and fixes to this powerful Twitter client. Headliners include support for recording and posting video for 3GS owners, as well as a new account picker tool for quickly finding friends' usernames for @mentions and direct messages. There are a number of new tapping shortcuts, including options to copy the text of a tweet, add a link to Instapaper without visiting it, and shortcuts to reply or re-tweet with a double- or triple-tap. An email sheet has been added so you don't have to leave Twitterrific to email a link for something, and a new "load more" button at the bottom of the timeline ensures that you can get good and lost in the Twitterverse.
The official changelog at the Twitterrific site lists the many, many other additions and fixes, so give it a glance for all the other goodies packed into this major update. Both Twitterrific Premium, $4, and its free, ad-supported brother received all the improvements, so look for them both in an App Store near you very soon.
[Updated at 2:43PM pacific to correct price for Premium version.]