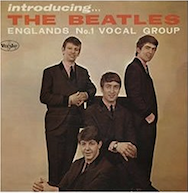 Beatlemania is sweeping the Apple rumor community—again!—but that's not the only thing that makes it seem like 1964 all over again—the tablet rumors practically need their own Warren Commission. And the Macalope asks, is the iPhone still the man you married?
Number 9, number 9, number 9…
That's right, Apple's rumored iTunes/iPod event is supposedly taking place on September 9, which can only mean one thing: open up a can of Spotted Dick, because the British are coming.
You see, 9/9 is the release date for the remastered Beatles anthology on CD, so the simplest explanation means that 9 + 9 = 2 aaaaand it looks like Occam's cut himself shaving again.
This really is the Rasputin of Apple rumors. No matter how many times you think it's been killed, it keeps coming back. The Macalope is starting to think that even long after the full remastered Beatles catalog is released on iTunes people will still be dragging this rumor out before every special event.
Good God, when will this abuse end?! The Macalope can't even listen to Beatles songs anymore without shouting "When, WHEN will it come to iTunes?!"
Okay, not really. Frankly, this has been rehashed so many times he can barely bring himself to care anymore. Sure, remastered versions would be nice, but it's not like the songs are going to be pressed on white vinyl.
Are they? Because that would be really cool.
Read more…
Back and to the left
As his swift and deadly readers know, the Macalope was raised on a steady diet of corn husks, leafy greens, and the Apple rumors that run pure and free from a bubbling spring on the high mountain plains.
Usually bubbling; sometimes, babbling.
To wit, the Macalope simply loves this headline from MacNN:
Researcher backs theory of two Apple tablets
Theory. Well, okay, the Macalope supposes you can loosely use the word to describe this, but it's more along the lines of "conspiracy theory that the mob killed Kennedy" than "Einstein's theory of relativity."
"Having reviewed the Zapruder film, I can categorically state that a second Apple tablet was positioned on the grassy knoll."
Let's look at the evidence:
Richard Doherty, a director at the market research firm Envisioneering Group, claims that Apple has developed prototypes of two different tablets: one resembling a large iPod, with a six-inch screen, and another with a larger display.
Well, there you have it. It's not like Apple would ever develop a prototype of something that never sees the light of day.
The horny one wants to believe just as much as the next nut job, but don't let anyone sell you a bridge built of supposed details about devices yet to be delivered. For such a bridge would be pretty flimsy and not load-bearing. As one might imagine.
This marriage is suffocating me!
After telling iPhone owners "You've got nowhere else to go, baby!" last week, the Macalope's going to admit that there's more than just App Store woes that might make you think your boots are made for walkin'.
To no one's surprise, people like the iPhone, but AT&T? Eh, not so much. There's very little doubt that Apple's already giving come-hither glances to other carriers; the only question is, can they get out of this shotgun marriage?
And now there are more signs of actual competition coming as BlackBerry is set to deliver full Flash. The Macalope loves to see this. While he personally thinks Flash is an albatross around the neck of the Internet, his personal opinion and fabulous sense of style and performance don't move units. He might see Flash as that-thing-you-have-to-go-through-to-get-to-content, but lots of people want it on its own merits, so good on BlackBerry to see an opportunity to provide some choice.
Could AT&T and Flash mean the iPhone honeymoon is over? Maybe, but probably not. Note that full Flash isn't coming to the BlackBerry for another year. That's plenty of time for Apple to finally find a way to patch things up with Adobe and deliver full Flash in iPhone OS 4.0. Or it could find some other slinky lingerie to put the spark back in the marriage.
Say, is it getting hot in here, or is it just the horny one?