Consumer electronics shopping resource Retrevo says that Apple's absence from the netbook market is hurting it with students buying laptops. The company has released the results of a study showing the trend.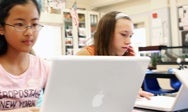 According to the "Gadgetology" study—culled from Retrevo's own users—34 percent of students buying laptops are planning to purchase a netbook. Another 49 percent want a full-sized laptop, and the majority of student laptop buyers aren't considering a Mac.
Students surveyed for the report indicate that longer battery life, small size and light weight are all factors affecting their buying decision, according to Retrevo CEO Vipin Jain, who called 2009 "the dawn of the netbook."
"Fifty-eight percent of them plan on spending less than $750," said Jain. Apple offers no laptop in that price range—its least expensive MacBook with educational pricing is $949. Only 18 percent of those students surveyed have a budget exceeding $1,000, according to Retrevo.
Netbooks are an emerging class of laptop computers distinguished by their small size and low cost compared to full-featured general purpose laptop computers. They have limited processing power, storage capacity and memory, but are suitable for surfing the Web, sending e-mail and light productivity work.
Companies like Asus, HP, MSI, and Dell have introduced netbooks into their product lines, while Apple has stayed on the sidelines. When asked by an analyst in July, COO Tim Cook acknowledged that Apple doesn't " see the way" to build a product it would be happy with at the price point that consumers demand.
"I never want to discount anything in the future, and never want to specifically discuss new products," Cook cautioned.
During the same conference call, Cook also acknowledged that Apple's higher ed sales for its third fiscal quarter were flat, with negative growth reported in Apple's K-12 educational business.
Apple has been rumored to be on the verge of unveiling a new tablet-based product to compete in a lower price bracket than it currently competes, but the company has a long-standing policy of not commenting on rumors, and rarely pre-announces a product before it's ready to show it to consumers.
Retrevo's study used more than 300 participants sampled randomly across its monthly visitor base. The sample was distributed across age, gender, income and location areas in the United States. The company claims standard deviation for most questions was 0.498 with a standard error of 0.029.