True to its promise, Apple has released its mid-level music creation application, Logic Express 9. The application, like previous versions of Logic Express, holds the middle ground between iLife's GarageBand ( ) and Apple's professional music creation and performance suite, Logic Studio.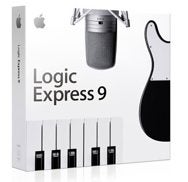 Compatible with GarageBand files, Logic Express also includes some of the features found in the latest version of Logic Studio. These features include Amp Designer (which includes 25 amp heads, 25 speaker cabinets, and 3 mics that you can mix and match), Pedalboard (which includes 30 stompbox effects that can be triggered via a MIDI or USB controller), and Flex Tool, a tool that allows you to easily move digital audio snippets forward and backward in time as well as lengthen and shorten parts within a phrase to change the rhythmic feel.
As with past versions of Logic Express, you get a full-featured mixing console complete with faders and mix groups, far greater control over automation, a fuller-featured notation editor, the ability to export tracks as Standard MIDI Files, and programmable software synthesizers and drum machine.
Logic Express 9 lacks Logic Studio's professional features such as support for Digidesign's Pro Tools TDM hardware, surround sound production, distributed audio processing (the ability to have multiple Macs devoting their horsepower to a Logic project), and professional control surfaces (computer-controlled mixers). It also lacks Apple's Jam Packs (all of which are included with Logic Studio), the additional applications bundled with Logic Studio (Soundtrack Pro 3, MainStage 2, WaveBurner 1.6, and Compressor 3.5), the space and delay designer components, and the Sculpture, EVB3 Tonewheel Organ, EVD6 Clavinet, and EVP88 Electric Piano synths.
Logic Express 9 is available now for $199. Owners of previous versions of Logic Express can upgrade to Logic Express 9 for $99.