Namco has released a Mac version of BurgerTime Deluxe, a reboot of the company's classic video game franchise. It costs $20 and a demo version is available for download.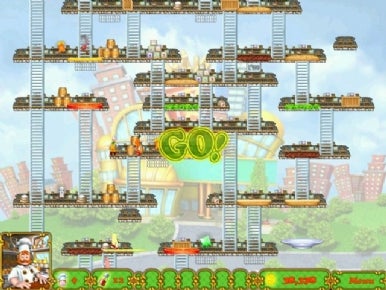 BurgerTime Deluxe puts you in a fantasy world where chefs create delicious burgers by climbing up and down ladders and stomping across platforms to make burgers, buns and all the fixings collapse onto plates. You have to avoid Vinnie Vinegar's henchmen — Mr. Hotdog, Mr. Egg, and other bad guys — along the way. You can put them in their place with a dash of pepper, however, and you can collect special powerups to freeze, cook, and salt them.
BurgerTime Deluxe features Story Mode and Quick Mode. The game features more than 60 levels plus minigames.
System requirements call for Mac OS X 10.4 or later and 256MB RAM.