Blizzard Entertainment's annual "BlizzCon" event is in full swing, and the first major announcement is the revelation of a new expansion pack for World of Warcraft" Cataclysm. The release schedule has not been announced.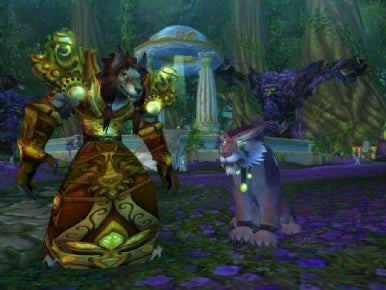 "Soon, Deathwing the Destroyer will return to Azeroth, and his eruption from Deepholm will sunder the world, leaving a festering wound across the continents," reads the press release. Deathwing is a mighty dragon hidden in a secluded sanctuary.
The expansion will feature two new races: the werewolf-like worgen, a new race aligned with the Alliance, and the goblins, playing with the Horde. The level cap has been raised to 85. The "classic zones" have been altered and updated with new content. and new high level zones will be added. More raid content will be added, along with new race and class combinations, such as gnome priests, blood elf warriors and more. Guilds can also progress to earn advancements, levels and achievements, new Player vs Player (PvP) objectives and new rated Battleground areas, a new secondary profession — archeology — that lets you unearth artifacts and earn unique rewords, and the ability to explore Kalimdor and the Eastern Kingdoms using flying mounts — heretofore limited only to high-level areas.
Blizzard notes that there will be "incremental tweaks and updates" to the graphics engine in Cataclysm that will require some increases to the game's minimum system requirements, but it refrained from identifying what those requirements will be.
World of Warcraft's Web site has been updated with more information about Cataclysm, including screenshots, videos, a FAQ and other other content.