BlizzCon, Blizzard Entertainment's two-day celebration for enthusiasts of its popular computer games, converged this past weekend in Anaheim, Calif. Blizzard used the event to reveal its upcoming "Cataclysm" expansion pack for World of Warcraft, and also provided details of other games in development.
Cataclysm builds on a massively multiplayer game that's been in continuous play since 2004, and has been added onto twice already with expansion packs. While previous expansion packs have emphasized improvements that mainly benefit high-level players, Blizzard is going back to basics with Cataclysm by offering new content to attract both new and existing players.
Accompanying some changes to Azeroth, the mythical land World of Warcraft uses as its setting, are completely revamped quests. Blizzard wanted to create quests that tied in to the new zones and were more enjoyable to the casual player. New "instances" have been added, for example—triggered events that players initiate when they go on questions—along with improved loot tables that should hand players more valuable items.
Cataclysm will also introduce improvements to the game's graphics engine, permitting players with higher end computers to experience higher quality video. Blizzard development proudly showed off improved water effects. Both representatives we spoke to stated that the minimum hardware requirements to play the game will not be increased.
StarCraft II and Diablo III
While Cataclysm took center stage at BlizzCon 2009, it wasn't the only thing that Blizzard showed off. The company also offered details on two other products in its development pipeline, both of which will be available for the Mac: StarCraft II, its sequel to its hugely popular space-based real-time strategy game, and Diablo III, a new installment of Blizzard's "dungeon crawl"-style action role playing game.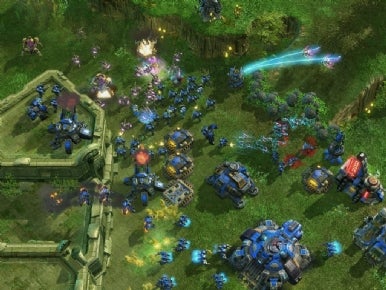 StarCraft II eschews local area network (LAN) support altogether for Battle.net, Blizzard's own free server-based game matching system. This is a controversial change with longtime StarCraft fans, some of whom are disappointed that they won't be able to host their own local multiplayer games. But Blizzard says it's doing this to help cut down on piracy. Recently Blizzard indicated that it has pushed back StarCraft II's release to the first half of 2010 to rework Battle.net.
At BlizzCon Blizzard explained that Battle.net is being redesigned to keep players online without dropping the connection. It will offer additional challenges, more co-op gameplay modes and achievements that can be earned which require your being connected as you launch the game. Blizzard said that Battle.net is undergoing a complete hardware upgrade to accommodate the changes. Older titles will still run.
A new cooperate multiplayer party system within StarCraft II will allow you to team up against computer-controlled players. The system will also offer achievements for cooperation during gameplay.
Blizzard estimates that StarCraft II's single-player mode will offer between 20 and 30 hours of gameplay. Players can play some of the title's 26 missions differently via branching and each mission averages about an hour to complete.
Blizzard doesn't expect to launch a demo prior to StarCraft II's release, but some portion of the game's audience will be able to test a beta version of StarCraft II through the Battle.net service.
Diablo III is shaping up to be at least as long as Diablo II, and will feature randomized dungeons, quests and boss encounters. This will take a couple play-throughs to see and do everything.
Battle.net will feature increasingly difficult competition ladders for Diablo III. Blizzard representatives stated that Battle.net is being redesigned to facilitate playing with both friends and players around your level.
The recently-announced Monk class is being regarded as a "fragile tank" of sorts—a "tank," in gamer's parlance, is a character that can absorb damage while others in the party attack enemies or try to achieve quest goals. The Monk character can readily engage a small to medium size group of enemies and hold his own. In cases where the Monk is surrounded by enemies, players can use a new combo system for attacks previously unseen in any Diablo title.