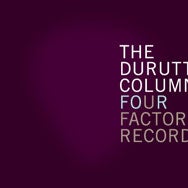 I was recently delighted to receive a box set with re-releases of The Durutti Column's first four albums. This band, led by Vini Reilly, has been one of my favorites since its first album was released in 1980. It's relatively unknown, but has a strong cult following. A number of tapes from Factory Records were recently found, including tapes of The Durutti Column's works, which were thought to have been lost. Kooky Records in the UK released remastered versions of the four albums, using these tapes as sources, in a box set called "Four Factory Records" with two bonus discs of demos and live tracks. For fans of the group, this is almost the holy grail; these first four albums are the foundation of Vini Reilly's nearly thirty-year career as a recording artist.
Listening to these remastered albums, I was dazzled by the quality of the sound, especially for the first three discs, recorded in primitive conditions. The music sparkles—it sounds as if it were made today, rather than on two- or four-track recorders.
Remastering is a valid, yet often overused concept. Record labels have found remastering to be a way to get loyal fans to buy their favorite albums again. In many cases, the music is just dusted off, treated with some noise reduction, and slapped on new CDs—perhaps with a few bonus tracks, alternate takes, or other "rarities". Only true fans will go out of their way to buy these new releases, but in some cases, large-scale remasterings of entire artists' catalogues (such as the soon-to-be-released remasters of The Beatles' recordings) are done to truly improve on existing versions. And in The Beatles' case, these new remasters should improve on the quality of the first remasters, made in 1988 when the music was transferred to CD. (You can read some interesting comments about the previous remasters and the forthcoming project in these Amazon.com customer comments.)
Sometimes, remastering just improves the sound, but in other cases it truly changes the way you'll hear the music. The Grateful Dead did extensive remastering of the soundtrack of The Grateful Dead Movie for its DVD release, as well as for a five-disc box set of highlights from the concerts that had been filmed. These remasters were needed to improve on the poor recording quality of the originals made in 1974. When Talking Heads decided to re-release their albums, however, they decided to make 5.1 surround sound mixes using the original tapes. And Pearl Jam recently released a remastered version of their first album, Ten, together with a 5.1 mix of an MTV Unplugged concert the band performed. However, some remasters actually sound worse than previous versions, so this can be a contentious subject.
Remastering can make a big difference for classical music. Taking old recordings and freshening them up introduces listeners to vintage performances by great musicians that may be long out of print. This type of restoration is a sort of black art; a handful of engineers work with old recordings—early LPs or 78s—and end up with sound that is almost as good as if the discs were recorded in recent decades (though in mono).
Andrew Rose of Pristine Classical is one such engineer. He says, about restoring and remastering recordings, that, "I fix not only the shortcomings of the medium, but also the shortcomings of the recording processes themselves by compensating for the poor quality of the recording equipment of the period. We can get closer to the way these performers and recordings sounded when they were played." One example of Rose's work is this sample of Haydn's Symphony no. 45. It's hard to believe that this is a nearly 60-year old recording in mono. For an extreme example, listen to the before and after samples of these recordings of Sir Arthur Sullivan's music from acoustic cylinders, nearly 100 years ago at the bottom of the page.
Remastering raises some philosophical questions, though. When listeners are used to a certain sound over a long period—such as several decades—any remastering sounds peculiar. For example, The Durutti Column's second album, LC, was recorded on "a 4-track Teac real-to-real tape machine… over a period of five hours in a spare room at [Vini Reilly's] mum's house." The original sounded like a home recording, but the remastered version sounds like it was recorded in a modern studio. Having listened to these albums for nearly thirty years, first on LPs on mediocre stereo equipment, then on early CD releases, I got used to a more muffled, stuffy sound with little definition. Now, the music sounds clear and light, with nuances that I had never heard before. It's better, for sure; but is it the same music? Doesn't my listening experience depend on the imperfections of the original recordings and the medium (LPs) on which I first heard the albums? Will The Beatles' remasters take away something from the sound that people remember, or will it bring out the sound that we should have heard all these years?
More importantly, will those remasters make their way onto the iTunes Store?
Senior contributor Kirk McElhearn writes about more than just Macs on his blog Kirkville.