Online shopping exemplifies the convenience of the Web: you can compare prices between retailers without leaving the comfort of your home. But the true beauty of shopping on the 'net is in letting the Web do that work for you. Here are a few tips for finding the best prices on many types of retail products.
1. Check price-comparison sites
If you're in the market for a particular product, whether it's an inkjet printer or a pair of shoes, the Web is full of tools to help you find the best deal. The simplest are price-comparison sites that survey major Web vendors to show you how they compare on a specific product. Type the name of the product (generally a brand name and model number) to see a list of prices. Some price sites also include vendor ratings, based on customer feedback, to help you choose a reputable online store.
Among my favorites are Google's Froogle; CNET's Shopper.com, which focuses on tech products; and Macworld's own Macbuy. Tip: Different sites format product names and models differently, so be as general as possible when entering your search term. For example, a search for Sennheiser 650 will find the desired product whether it's formatted as HD650, HD 650, or HD-650.
If you're looking specifically for computer memory, try a site dedicated to comparing RAM prices, such as dealram or ramseeker Mac. Each lets you choose your particular Mac model and then shows you the best deals on compatible memory.
2. Search for coupons
Think you've found the best deal? Before you buy, find out whether any additional discounts are available; many sites provide free shipping or special deals via their mailing lists or private sales. Sites such as RetailMeNot, FatWallet, dealcoupon, and CouponCabin let you search by store for online coupons and discount codes. You can also find printable coupons for local retail stores, for those times when you're actually forced to venture out into the physical world.
3. Subscribe to and search RSS feeds for bargains
Want to keep an eye out for great deals in general? A number of deal-finding sites offer RSS feeds. Just subscribe to a site in your favorite newsreader—such as Apple's Safari or NewsGator's free NetNewsWire ( )—and it'll pump out a constant stream of the latest bargains. You'll find a few of the best RSS feeds at dealnews, dealmac (a version of dealnews.com dedicated to Mac-related deals), and Techbargains.
You can also take advantage of features in your newsreader or browser to watch for deals on a particular product or type of product. In Safari, view the RSS feed you want to monitor, type the product name in the Search Articles field (again, a more general product name is better than a specific one), then click on Bookmark This Search.
A dedicated RSS reader such as NetNewsWire lets you watch and search multiple RSS feeds simultaneously. In NetNewsWire, create a folder and drag all your "deal" feeds into the folder. Then create a Smart List (File -> New Smart List), matching all conditions, where the conditions are Group Name Contains yourdealsfoldername and Title, Description, Or Summary Contains productname.
The result of these saved searches is a list of hot deals on the specific product you're planning to buy. These sites also have searchable archives, so even if you don't subscribe to their RSS feeds, you can search for previously posted discounts.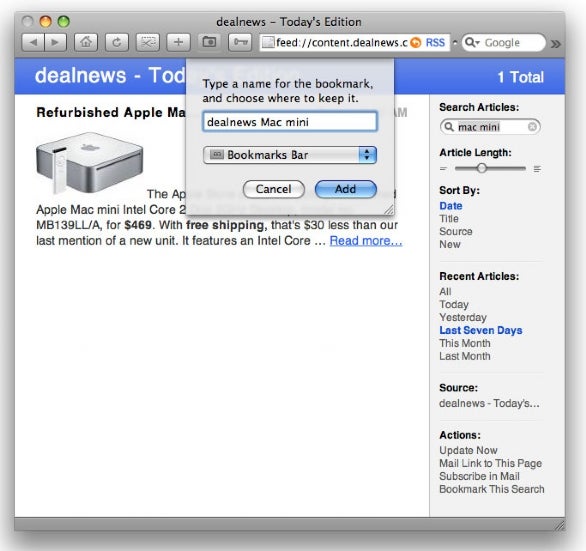 4. Follow vendors on Twitter
Many retailers use Twitter to announce sales and temporary discounts. All you need to do is follow the vendor's account to be instantly notified of the latest bargains (see "Bargain tweets"). Perhaps my favorite is Amazon MP3, which announces Amazon MP3's daily deals—sometimes entire albums for as little as $2. Also check out woot for the daily woot.com deal of the day and the Priceline Negotiator for last-minute travel deals.
Senior Editor Dan Frakes covers software bargains every week in his Mac Gems blog.