At a Glance
Expert's Rating
Pros
Support for RSS feeds
Includes Wi-Fi
Easy-to-use touchscreen
Cons
Wi-Fi is a nuisance to set up
Audio sounds scratchy and tinny
Our Verdict
The 7-inch Intouch IT7150 digital photo frame from Giant International may look futuristic, but it also just feels like today's plastic. Its touchscreen, however, is very responsive and can be calibrated to your preference. This touchscreen, paired with its nicely intuitive menu screen, makes for an attractive package, albeit an expensive one.
With an 800-by-400 pixel resolution display and Wi-Fi support, this frame has enough features to compete within its class. Its key feature (besides displaying your pictures) is its ability to stream content through FrameChannel, a free online service that provides information through the frame. FrameChannel has several hundred channels, including news, photosharing sites, and social networks. The IT7150 also has support for RSS feeds, which, along with FrameChannel, allows the IT7150 to be something of an Internet kiosk as well as a digital picture frame.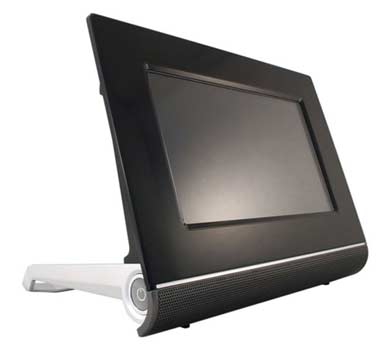 Unfortunately, I had difficulty setting up Wi-Fi for the IT7150. It requires all your Dynamic Host Configuration Protocol (DHCP) information rather than simply a network key, as with most other wireless frames. And to add to the frustration, all of this information has to be entered using a QWERTY keyboard on the frame's touchscreen. Once set up, you can used FrameChannel and listen to Internet radio.
The IT7150 has a pair of speakers housed in a tubular grill at the bottom of the frame, but the sound–particularly the bass–was some of the worst I've heard from a digital frame.
The IT7150's internal memory is limited to 128MB, much less than a number of other frames we've tested. However, the frame accepts all the usual media cards (SD, CF, Memory Stick, MMC, and xD), so this shouldn't be too much of a bother for most casual users. You can also work around the storage limits by using a photosharing Web site that is supported by FrameChannel.
Despite the appeal of a matte touchscreen, it's a dust magnet, and the glossy border is prone fingerprints and smudges. The menu screen offers four options that take you to settings and different types of content, including audio and video, as well as news feeds. In our tests, photos looked sharp, but color was noticeably cooler and contrast was slightly higher than in my original photos. Alas, brightness is the only setting that can be changed.
I ran into some trouble with nested folders and content from multiple cards: All photos need to come from one source at a time, which is an annoyance.
Macworld's buying advice
The Intouch IT7150's support for FrameChannel makes it an appealing choice if you like the idea of a frame that does more than simply display pictures. The IT7150 works fine, as soon as you tackle some of the setup issues.
[Kathleen Cullen is a freelance contributor.]