Electronic Arts (EA) is getting ready to release the first installment of its legendary Madden NFL game franchise on the iPhone. The company on Monday offered a first glimpse of Madden on the iPhone, with news that the game will be released in September.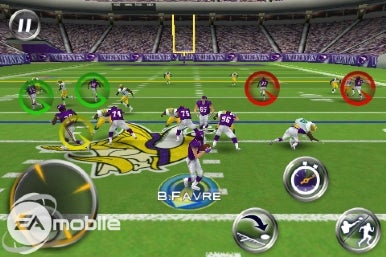 Madden NFL, a perennial favorite of American football enthusiasts through generations of video game consoles, tries to replicate the pro NFL experience by offering players the ability to play using real pro football teams and their favorite players, all in venues they recognize.
Madden NFL 10 features all 32 licensed teams and real locations, with updated rosters of players—you'll even see Brett Favre, fresh out of retirement, wearing the purple of the Minnesota Vikings and Michael Vick in Eagles green.
Features of Madden NFL 10 for iPhone include "Action Control Time," which lets you adjust the speed of your game, "Season Mode," which lets you play through an entire season of football, complete with trades and acquisitions, stats and individual player rewards, full control over rosters, depth charts, and access to free agent pools, and broadcast commentary featuring the voices of John Madden, Tom Hammond and Cris Collinsworth.