Striving to provide an all-in-one-retail-box solution to Windows users who want to switch to the Mac, Parallels announced Tuesday that it's releasing a new version of its Parallels Desktop software that comes with a USB transfer cable and in-depth interactive tutorials to ease in the Windows-to-Mac transition.
The new $100 Parallels Desktop Switch to Mac Edition, which will be available in Apple retail stores, enables PC users to transfer the entire contents of their PC into a virtual machine running inside a Mac via Parallels Desktop 4.0, including the operating system from their PC — creating a duplicate of the system they're already accustomed to.
For several years, Apple has reported that roughly half of the Macs it sells in its retail stores go to users who have never before bought a Mac. Parallels developed the Switch to Mac edition to help ease that transition for existing Windows PC users.
The installation disc in the box includes not only the full $80 version of Parallels Desktop, and a Windows-based transfer application to help copy all the files over to the Mac, but also 2 hours of training materials based on It's About Time Products' $25 " Learn the Switch to Mac" product, with additional training material designed specifically to teach about how to use Parallels Desktop to run Windows from within the Mac. The training is more than just a standard video lesson, giving users a fully clickable mock-up of the Mac interface they can use to explore and learn.
As users begin the transfer, they can run through the training materials to begin to familiarize themselves with the operation of Parallels and of Mac OS X. Parallels estimates it can take roughly an hour to move 35GB of data from one machine to the other, depending on the performance of the host machine and the system that's being transferred.
According to Saied Ghaffari, CEO of It's About Time, the training materials included in the product are intended to "cut a couple of weeks of learning [how to use the Mac] to a couple of hours."
According to Parallels, the Parallels Desktop 4.0 Switch to Mac Edition will be available in Apple retail stores and other retail channels as of Tuesday, and supports English, German, and French.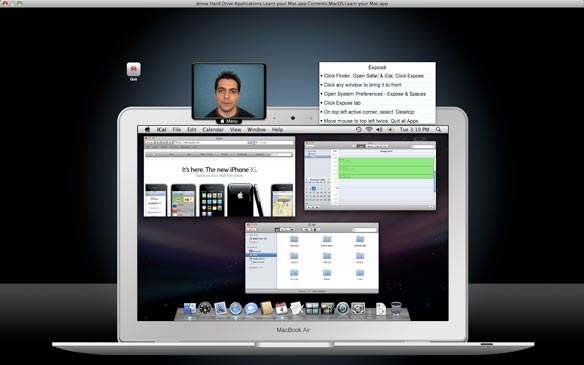 Editor's note: (8:40 AM ET) Added details about the data transfer process.
Editor's note: (11:54 AM ET) Corrected time of training from 20 to 2 hours.