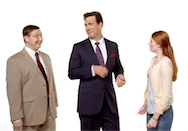 Perhaps you remember the very first Get a Mac ad featuring the inimitable PC and Mac duo—I believe it was in Exodus 7:4, when Moses said unto Pharaoh: "Verily, I am a Mac—let my people go." Things were simpler in those days, huh?
The two latest spots from Apple continue the trend of punching up the Mac and PC's Socratic dialogues with third (and sometimes fourth!) parties. This time around we have two spots: Top of the Line, featuring actor Patrick Warburton (Seinfeld, The Tick) as the eponymous high-falutin' PC model. PC's trying to convince a computer buyer—who looks suspiciously like Microsoft's Lauren—to buy a PC. Warburton's performance makes the spot; he manages to get off a couple good deliveries in thirty seconds.
But, I must admit the funny-bone in me was tickled more by the second of the two sets, Surprise, which also features a prospective computer buyer. Justin Long gets to stretch his role a bit here, which must be nice for him after dozens of ads in which he's forced to play the straight man. But I will say no more, for fear of ruining the titular surprise.
It's pretty clear Apple's obliquely hitting back against Microsoft recent PC buyer ads. Is it working? Sound off in our (brand spanking new) forums below.