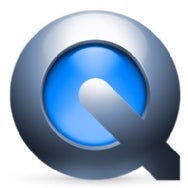 Snow Leopard brings with it a new version of Apple's QuickTime multimedia architecture, called QuickTime X. The most noticeable difference is a redesigned QuickTime Player. Like the version of iMovie introduced in iLife '08, QuickTime Player gains some features, streamlines workflows, and also loses some previous functionality.
(It's worth noting that as part of the Snow Leopard upgrade process, the installer moves QuickTime Player Pro 7 to the Utilities folder, so it's still there if you want it, and you can choose QuickTime 7 as an optional install if you don't have a Pro key. Apple did a similar thing with iMovie 6 HD when users installed the iLife '08 suite.)
Unlike in the past, there's only one version of the QuickTime Player. Previously, the standard player was free to all QuickTime users, but a Pro version costs $30, which included the ability to create, save, edit, and export videos. (QuickTime X is also only available as part of Snow Leopard—there's no way to upgrade your version of QuickTime in Leopard or other OS.)
Viewer
The first thing you'll see when you open a movie in the new QuickTime Player is a brand new viewer. Both the title bar (with the file's name and the close, minimize, and maximize buttons) and the controls (more on that shortly) appear on top of the video. The controls are contained in a floating window that you can place anywhere on the video. The gray of older QuickTime versions has been replaced with a translucent black. Once you begin playing a movie, the title bar and controls fade away (after a few seconds if your cursor is over the video, or immediately if you move your cursor away from the video). What you're left with is a video playing in a borderless window with slightly rounded corners.
The control window is clearly modeled on the one in iTunes in look and in button placement. In the middle, it contains a play button, and reverse and forward buttons that rewind or fast-forward video, respectively, at 2x, 4x, or 8x depending on how many times you click on them. Gone are the QuickTime 7 buttons that let you jump the beginning or end of a video.

At the bottom is a slider for scrolling through a movie, with your current time placement in the video to the left of the slider, and either the time remaining or the total length of the video to the right (to toggle between the two choices, you click on the time).
On the left size is a volume slider. On the right are a button to access chapters (it only appears if the file has chapters), a Share button, and a button to toggle in and out of full-screen mode.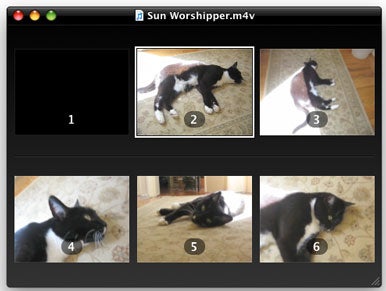 QuickTime 7 had a pop-up menu for selecting chapters, whereas the new player changes the playback window to display a thumbnail view of chapters—clicking on one takes you to that chapter and begins playing the video from the point.
The Share button offers a pop-up window with choices for encoding and sending your video to iTunes, to a MobileMe Gallery, or to YouTube. iTunes lets you pick iPhone & iPod, Apple TV, or Computer as output options, displaying the resulting file size for each. You can select only one, and if QuickTime determines your file isn't large enough to create an Apple TV or Computer version, the options are grayed out (although there's no indication of what Computer means or what QuickTime is looking for in terms of resolution or quality). MobileMe Gallery brings up a window that lets you enter info and set a few options before uploading. And YouTube offers the same type of options.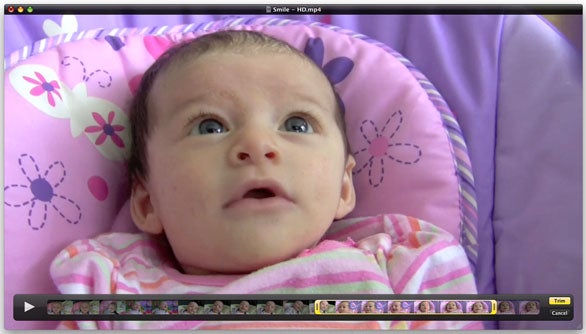 The final choice under the Share pop-up is Trim. Select it and QuickTime changes the control window to display thumbnails of your video on a timeline. From there, you can drag the ends in to shorten the video to a smaller clip. You can't use the feature to remove unwanted portions—commercials, say—from a video and retain the rest, however.
Playback options
In QuickTime 7, you could view a movie at half size, actual size, double size, in full-screen mode, or fit it to the screen. QuickTime X changes some options, offering full-screen mode, actual size, fit to screen, fill screen, and panoramic. Plus, you can increase or decrease the playback size in steps using option-plus or option-minus, respectively. (Note that the floating control window stays a constant size, so it takes up more or less space as you change playback size.)
When you're in full-screen mode, a Zoom button appears in place of the Share button. Clicking on it toggles between standard playback—which may have black bars on the top and bottom of the video—and a zoomed mode that works just like it does on the iPhone or iPod touch, enlarging part of the video to completely fill the screen.
One thing you lose from QuickTime 7 is ability to play all open movies at the same time, which some people found useful when comparing two versions of the same file using different codecs, for example.
Export changes
Apple's Share button hints at a simplified method of converting and exporting video. Whereas QuickTime 7 has an Export option that let you choose from different codecs and customize your audio and video options, QuickTime X only has the aforementioned Share choices as well as slightly-updated version of the Save For Web option of QuickTime 7, and a Save As menu item that offers presets for Apple devices and 480p and 720p videos. Interestingly, applications such as iMovie—which are built on QuickTime—still offer the same custom export options as they did under Leopard. If you really want to customize output, QuickTime 7 Pro is still an option if you have it.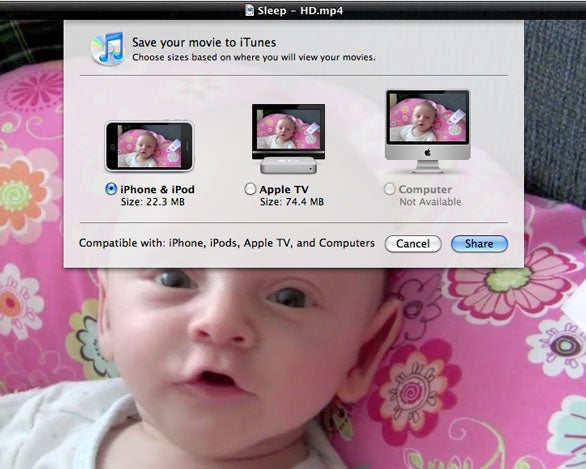 Screen recording
One big addition to QuickTime is that it now lets you capture video of your Mac's screen—useful for showing a family member how to do something in OS X, for example. Select File -> New Screen Recording and a floating window appears. To pick your settings, click on the small white triangle in the lower right corner. A pop-up window appears letting you choose an audio source if you want to include one, the quality (medium or high), and where QuickTime should save the movie (your Movies folder by default).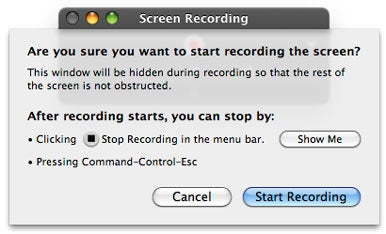 When you're ready, click on the red button to being recording. QuickTime pops up a new window asking if you want to start recording, and gives you the options for stopping the recording—either by clicking on the Stop Recording menu-bar item or by pressing command-control-escape. There doesn't seem to be a way to turn off this extra step. (In the past, QuickTime's limited preferences were found in its preference pane—there isn't a preference pane for QuickTime X, nor is there a Preferences option in the software itself. Those old options don't seem to be available in QuickTime X.)
The software captures your entire screen, and creates movies that are the same frame size as your display resolution (1,920 by 1,200 pixels, for example)—there's no option to select a portion of the screen to record. You also can't pick the frame rate for recordings.
Medium quality uses the Photo JPEG codec, while high quality uses the more efficient, but more processor-intensive H.264 codec. Although the quality of medium and high were actually pretty similar, the downside to medium is that it uses a much higher data rate and produces huge files (seven or eight times the size of the H.264 high quality setting).
HTTP Live Streaming
Another change to QuickTime is that it supports HTTP Live Streaming, a standard using regular Web servers to stream audio or video to an iPhone 3.0 device or computer running QuickTime X.
Other changes
Thanks to the update in QuickTime, when you view movies files in either icon or Cover Flow view, hovering over a file brings up a play button that lets you begin watching the complete video in the Finder.