We're living in a media age, in which our lives are shaped and driven by what we read, see, and hear. We surround and sometimes even encase ourselves in images, words and sound. Few of us can escape it even if we wanted to. And some of us consume and collect media to the extreme. We amass thousands of books, CDs, movies and games. How in the world do we keep track of it all?
With a database, of course–something easy to use, but powerful and flexible enough to let us manage and sort large quantities of information about titles, authors, artists, performers, publishers and labels, genres, ratings, and so forth. If we can cram all of that data safely and reliably into an iPhone-sized object, so much the better.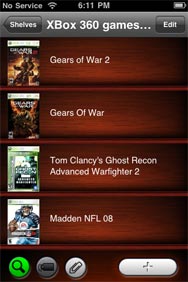 John Cotant's Juicy Library for the iPhone offers itself as an ideal way to catalog your books, movies, music, software, games, toys, electronics, jewelry, and even your clothing. You can import almost all of your worldly possessions into a handheld device with a simple snapshot of a barcode, or (more often than not) by entering the barcode data manually. Juicy Library then searches Amazon.com's database and downloads the item's image and product info to your phone.
By the way, why the name Juicy Library? Because Delicious Library was taken. Juicy Library attempts to emulate many of the features of Delicious Monster's sophisticated catalog software (available on the Mac, but sadly not on the iPhone at present), but beyond a superficial resemblance, the two products are quite different. Delicious Library users—and I am one of them—will find plenty lacking in Juicy Library. For example, Delicious Library 2 has extensive iTunes support. Juicy doesn't. And you can, in fact, export your Delicious Library to your iPhone or iPod Touch with relative ease.
The ability to export and back up your library is a critical feature in a piece of software such as Delicious Library. But it's missing from Juicy Library.
Ease of use is also crucial. Delicious Library lets you use your computer's webcam or a handheld scanner to input barcode data. Juicy Library lets you use the iPhone's camera, but please be advised that the app requires a camera with a macro lens — and right now, that means the iPhone 3GS. Those of us with an older iPhone 3G or an iPod touch are left to enter our data manually, or not at all.
The other way to add titles to Juicy Library, at least in theory, is by keyword. The app even lets you narrow or filter certain keywords by author or subject. But I struggled in vain to enter books by keyword search: Searches using the author's last name, or last name then first name, or specific subject, always came back negative. Broad keyword categories yielded results that were almost worse than useless. (Who was the joker at Amazon or Three Rivers Press who tagged Max Brooks's novel "World War Z" as "history"?)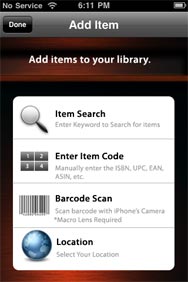 The problem with Juicy Library's keyword searches exposes an even bigger challenge: What do you do if some of your books don't have a Universal Product Code (UPC), Amazon Standard Identification Number (ASIN), or International Standard Book Number (ISBN)? With Delicious Library, you have several workarounds, including entering the title, author and publication information manually. Juicy Library seems to foreclose the possibility of cataloging old books, which is a big negative.
Once you've entered what data you can, Juicy Library will let you tag your books. Although it isn't entirely clear what purpose the tags serve, since the app only lets you search your library by title or author.
Juicy Library does have an attractive graphic interface, and browsing by cover, sorting by shelf name and filtering by media type (e.g. books, video games) does make for a relatively user-friendly experience once you've entered your data. But the app's deficiencies outweigh its advantages. Juicy simply isn't Delicious.
Juicy Library is compatible with any iPhone running the iPhone 2.1 software update or later. Scanning bar codes requires the iPhone 3GS.
[Ben Boychuk is a columnist and freelance writer in Rialto, CA. Feel free to e-mail him.]