The same explosive growth that's seen the App Store swell to a barely manageable size has also been felt among fantasy football apps. Last year, the iPhone or iPod touch user looking for a mobile tool to help them settle the haunting questions of Draft Day — Peyton Manning or Tom Brady? Larry Johnson or LaDainian Tomlinson? And what of tight ends? Won't somebody think of the tight ends? — had just a handful of apps geared toward fantasy football drafts. These days? Type the words "fantasy football" into any reputable App Store search tool, and you've got nearly three dozen apps vying for your consideration.
Where can a would-be architect of a football juggernaut turn to for Draft Day guidance? I tested five fantasy football draft guides in my yearly (and so far, futile) attempt to maintain dignity in my assorted fantasy leagues. If you've still got a fantasy football draft looming in the next few weeks—and you don't mind springing for an app that, let's face it, has limited post-Draft Day appeal—I can recommend a pair of apps that can help you manage player wish lists, figure out who's selected and who's available, and tell the difference between Chris Johnson and Calvin Johnson. (The former is a running back on a professional football team; the latter is a Detroit Lion.) Two other fantasy football apps certainly have their strong points, but ultimately suffered from flaws that made me toss them aside. And one of the apps I tested is simply dreadful.
Read more…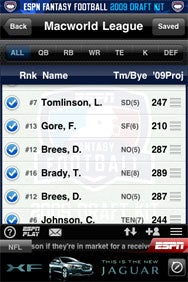 Let's get the cellar dweller out of the way first, swiftly and painlessly. ESPN Fantasy Football 2009 Draft Kit comes from a seemingly impeccable source— ESPN, which, in addition to its self-proclaimed status as the Worldwide Leader in Sports, has established itself as a major player in the world of online fantasy sports. Indeed, its Fantasy Football 2009 Draft Kit draws on that expertise. The app's strong point are thumbnail profiles for many players—in addition to last season's stats, you also get a paragraph of analysis from ESPN's fantasy experts.
So what's the problem? Getting to that information and putting it to use is too much of a challenge, especially under the unforgiving time pressure of a fantasy football draft. ESPN's 2009 Draft Kit is a horror to navigate. An intro screen the appears each time you launch the app—and whenever you inadvertently navigate back to the main menu—provides unclear options for creating and viewing draft lists. Menu icons are confusing—ESPN's icon for jumping back to the Draft Lists screen is three horizontal lines, which usually means you want to order a list. Icons are also about the size of a fingernail, making them difficult for this flabby-fingered fantasy player to tap. The app is also buggy—on one wish list I created, certain players' names appeared twice, with no way to delete the extraneous listing—and occasionally crashes. ESPN's Draft Kit may be free, but it was little help to me in prepping for my draft.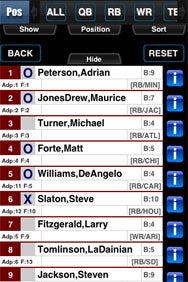 Cheatsheet: Fantasy Football '09 and iDraft Fantasy Football Cheatsheet '09 are better choices, though they both have notable flaws. In the case of FanStar's CheatSheet, you're given the choice at launch of viewing player rankings or setting the rankings to your liking. Picking the latter option gives you a list of 479 players that you can drag up and down the list to your heart's content. One downside: the Set Rankings screen doesn't let you filter by position, so if you've got a lower-ranked sleeper pick you want to move higher up the list, you've got some scrolling to do.
Once you jump over to view the rankings in Cheatsheet: Fantasy Football '09, you'll see a list a fairly common data set of data for fantasy football apps—the player's name, his real team, position, and, perhaps most importantly for fantasy football purposes, his real team's bye week. From this screen, you can sort by position. You can also put a player on your wish list, mark that you've drafted him, or designate him swiped by some other team; you have the ability to sort the player rankings by these views as well as view the remaining available players. Cheatsheet: Fantasy Football places an X next to players you've drafted and an O next to the ones who've landed on other teams. It's a nice visual cue, though other apps use different colors, which I find to stand out more than Xs and Os. The app includes injury reports, so you don't inadvertently draft a player who left his knee back in training camp, though I'm not sure how frequently Cheatsheet updates this info—as I type this, the injury listings seem a week out of date.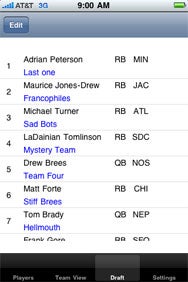 iDraft from Ace Technology Consultants fancies itself less of a guide for your own draft and more of a way to track your entire league's draft. In this era of online leagues hosted by Yahoo, ESPN, and others, I'm not sure why you'd want to spend your fantasy league draft meticulously tapping out who picked what running back, but to each their own. I was able to set up an eight-team league in iDraft without too many hassles. It'd be nice if the app let you set a draft order, so that you wouldn't need to remember who was picking when, but that's a relatively minor complaint.
More significantly problems are that when a player's been picked, he'll still appear in the All view of your player rankings. To see who's still on the board, you've got to toggle over to the Available screen. iDraft should include a way for noting players who've been drafted in the All view if it's to be taken seriously as a draft manager. Also, you can only reorder player rankings in the All view—there's no way to, say, re-rank just tight ends or wide receivers.
On the plus side, iDraft does include rankings for individual defensive players, a category that more leagues (including Macworld's masochistic in-house league) are including. The app also features a visually-appealing color-coded system for identifying players you covet and those you want to avoid—the former appear in green, while the latter are stained with red. (One downside: there's a single button for iDraft's love hate feature, so you have to tap twice to downgrade a player. Two separate buttons, please.)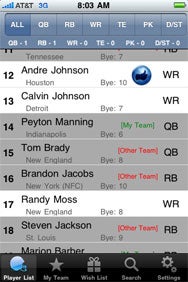 Really, fantasy football players looking for mobile draft apps on the iPhone have two choices—Studs & Duds Fantasy Football Draft Kit '09 from FSJ Development and Fantasy Football Cheatsheet '09 by 290 Design. Both apps give you the basic information you need to prepare for your draft—sortable wish lists, chiefly—along with some nice design features that let you track down what you're looking for in an instant—a necessity when you find yourself on the Draft Day clock.
Studs & Duds, for example, has an excellent search feature. Most apps feature a search field where you type in a name, getting results as you type. So does Studs & Duds—but the app also features a scrollable list of players and an A-to-Z search bar running down the right side of its Search screen. The app makes it really easy to track down that wide receiver in Buffalo you've had your eye on.
Studs & Duds also features a number of clever visual cues. If a player's been selected, he's grayed out on the screen; in addition, the app assigns red "other team" and green "my team" logos to drafted players as a further visual indicator of who's gone where. Additional logos tell you if a player is a stud (a blue thumb's up), a dud (a red thumb's down), a sleeper (a black button with Zzzs), or a value pick (a green dollar sign). It's very handy.
You can track multiple drafts with separate wish lists in Studs & Duds. The app also lets you enter in the scoring system for the league you play in, which will further customize player rankings—a feature that I happily admit goes above and beyond my obsession with fantasy sports.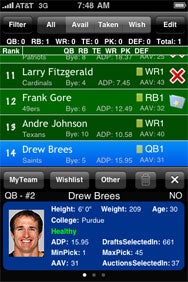 That said, I prefer Fantasy Football Cheatsheet '09, an app I generally liked a year ago that has improved substantially in the ensuing 12 months. Both of my major complaints about the 2008 edition Fantasy Football Cheatsheet—you couldn't reorder players on your wish list to your liking and you couldn't get updated injury info—appear to have been remedied. Not only can you re-order players on your wish list, you can also re-rank them by position. And a red cross lets you know if the object of your desire might be a little gimpy on Draft Day.
You can manage multiple teams in multiple drafts using Fantasy Football Cheatsheet, keeping separate wish lists for each draft. And the app pulls player news from RotoWorld as well as draft rankings from MyFantasyLeague.com for added authority.
These changes have certainly improved Fantasy Football Cheatsheet's standing. Whereas last year, it was a solid-if-unspectacular choice, the 2009 version of the app is a definite first-round pick-up.
ESPN Fantasy Football 2009 Draft Kit, Cheatsheet: Fantasy Football '09, iDraft Fantasy Football Cheatsheet '09, and Studs & Duds Fantasy Football Draft Kit '09 are compatible with any iPhone or iPod touch running the iPhone 3.0 software update. Fantasy Football Cheatsheet '09 runs on the iPhone 2.1 software update.
[Macworld.com executive editor Philip Michaels is the Matt Millen of fantasy football general managers.]