Mac OS X 10.4 (Tiger) introduced a host of features that made using a Mac easier for people with physical disabilities. Among its key improvements was VoiceOver, a screen reader that narrated whatever was on the Mac's display. Leopard improved on those features, adding a more human-sounding computer voice (Alex) and offering more ways to interact with the Mac (including support for USB Braille displays and number-pad input). Snow Leopard continues those efforts to make OS X more accessible.
Trackpad Commander
For starters, Snow Leopard makes navigating OS X on a modern Apple laptop easier, by offering new trackpad gestures. A Multi-Touch trackpad can now represent the entire active window. Using Trackpad Commander (a utility you launch by holding down Control and Option while rotating two fingers clockwise), you can hear what's on screen by touching the corresponding part of the trackpad; touch the upper left corner of the trackpad, and VoiceOver will tell what's in the upper left of the screen. Drag your finger, and VoiceOver will tell you what's in the frontmost window your finger "touches." Additionally, you can move to items—cells in a spreadsheet, for example—by flicking the trackpad with a single finger.
It's easier now to move around the screen with the keyboard. Using a new feature called Quick Nav, you can navigate the screen or click a button or link with the Mac's arrow keys. Snow Leopard adds support for additional Braille displays, including wireless Bluetooth displays. And OS X 10.6 supports multiple simultaneous Braille displays—useful in a classroom when a group of students want access to a single Mac.
VoiceOver
Snow Leopard also offers an easier way to get started with VoiceOver. Just enable VoiceOver and you're prompted through a Quick Start tutorial. Featuring large text and narration, the tutorial shows you the basics of using VoiceOver commands and navigating the Mac with the keyboard and gestures.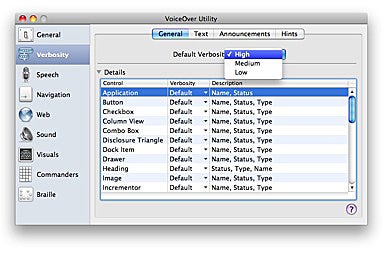 VoiceOver is nice, but there are times when you want it to cut to the chase, particularly when you're visiting a Web page with a lot of text and elements. A new feature allows you to tell VoiceOver to read a summary of the Web page—including title, number of tables, headers, links, and form elements. It also now supports HTML Web tables without the hassle of slipping into a form or table mode; you can just use the gestures you commonly use to navigate the Web table.
Other Web-centric improvements include the ability to tag areas of your favorite Web pages. For example, if a page offers Top Stories and Recent Stories areas, you can mark them as such and easily jump to one or the other when you next visit the page.
And VoiceOver is more configurable than it was in the past. You can choose High, Medium, or Low verbosity levels, or dig in and customize 30 separate settings. You can additionally cut down on complex key combinations by assigning keys and gestures to launch an application, run an AppleScript or Automator action, or activate a VoiceOver command.
For the hearing-impaired
Finally, Snow Leopard adds one improvement for the hearing impaired. Select the Hearing tab within the Universal Access system preference and you'll see a new Play Stereo Audio as Mono option. This allows people who can hear better through a single ear to hear both channels of a stereo signal more clearly.