Iomega on Thursday introduced the StorCenter ix4-200d, a new four-bay Network Attached Storage (NAS) system for small to medium businesses that works with Mac OS X, Windows and Linux operating systems. It comes in 2, 4 and 8 terabyte configurations for $700, $900 and $1,900 respectively.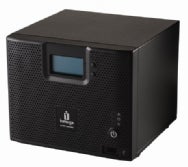 The StorCenter x4-200d features four hot-swappable SATA II drive bays which come configured as a RAID 5 array, but can also be configured as a RAID 10 (with automatic RAID rebuild) or as a JBOD (Just a Bunch Of Disks) configuration.
Inside, the system is running an embedded Linux operating system equipped with EMC LifeLine software. It's compatible with Apple's Time Machine software, and also comes with Retrospect Express. The devise can be configured as an iSCSI storage system (Mac users will need iSCSI initiator software); supported protocols include AFP/Bonjour, SNMP, FTP, HTTP, Linux/Unix NFS, and Microsoft CIFS/SMB/Rally. The device supports Active Directory and is also VMware-certified for NFS and iSCSI on ESX Server 3—a core component of VMware's vSphere technology for data centers.
On the outside, the StorCenter ix4-200d has dual Gigabit Ethernet ports, which can be configured for link aggregation, network failover or on separate subnets. The system sports three USB 2.0 ports you can use for printers and additional storage expansion. A "QuikTransfer" button on the unit's front lets you transfer data immediately from a USB drive, and a front-facing LCD panel shows you the unit's capacity, network information and QuikTransfer job status.
While the StorCenter ix4-200d is primarily aimed at business users, it also features media server capabilities, and is DLNA and UPnP-certified—it can work as an iTunes server, or it can share files with an Xbox 360 or PlayStation 3 video game console. It also supports Axis IP surveillance cameras.